Today I have for you an inspiration for yummy and healthy lunch or dinner. Alongside baked veggies, the table is ruled by chicken meatballs with quinoa. But what is actually quinoa? – you may ask. Although quinoa is usually categorised as a grain, it actually belongs to the same family as spinach. The little quinoa seeds are packed with valuable nutrients, such as iron, magnesium, phosphorus, potassium, zinc and B vitamins (especially B6, folate, niacin and thiamine)1.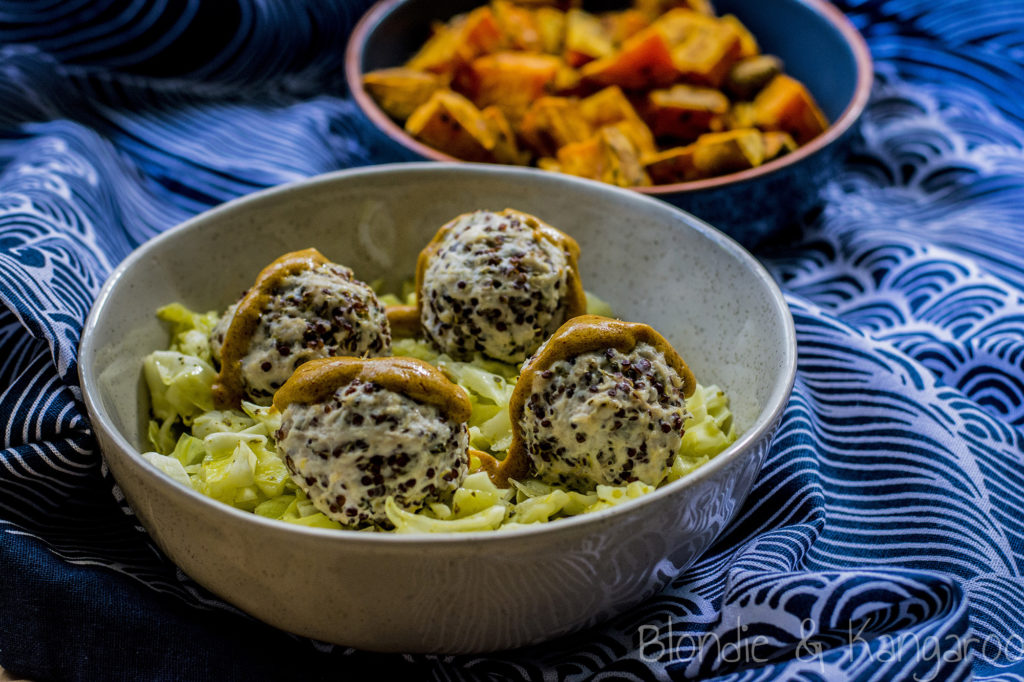 Servings: 4 (around 16 meatballs)
Ingredients:
Meatballs:
560 g chicken mince
200 g cooked quinoa (I used red one, but white or black quinoa is fine as well)
1 tsp dried oregano
1 tsp dried basil
1 tsp marjoram
1 clove garlic, minced
pinch salt
Sauce:
6 tsp dijon mustard
4 tsp extra virgin olive oil
1 tsp paprika
baked cabbage (from this recipe)
baked sweet potato (from this recipe)
Directions:
Preheat the oven to 190°C and line a baking tray with baking paper.
In a large bowl mix chicken mince, cooked quinoa, spices and garlic until well incorporated.
Shape the mixture into balls and place on a baking tray.
Bake for 30 minutes.
In the meantime mix all ingredients for sauce.
Once the meatballs are done, remove from the oven and serve with baked cabbage, sweet potatoes and sauce.
Enjoy!
Tip:
You can freeze meatballs before cooking and use later. Place raw meatballs on a tray or flat surface in the freezer covered with foil or baking paper. Freeze until hard, then pop into a ziplock bag and keep in the freezer for up to 3 months. When you want to cook them, just remove from the freezer and let defrost overnight in the fridge. Fallow cooking instructions from the recipe.
References:
Berkoff et al. 2013, "Foods that harm, Foods that heal", p. 177-178