While preparing gluten free pancakes, you don't have to always reach for the corn flour. There are many other substitutions which can help to prepare this famous delicious meal. One of them is buckwheat flour. We are crazy about these buckwheat pancakes. The flavour is incredible and fantastic. And this is how the dish should taste, isn't it? 😉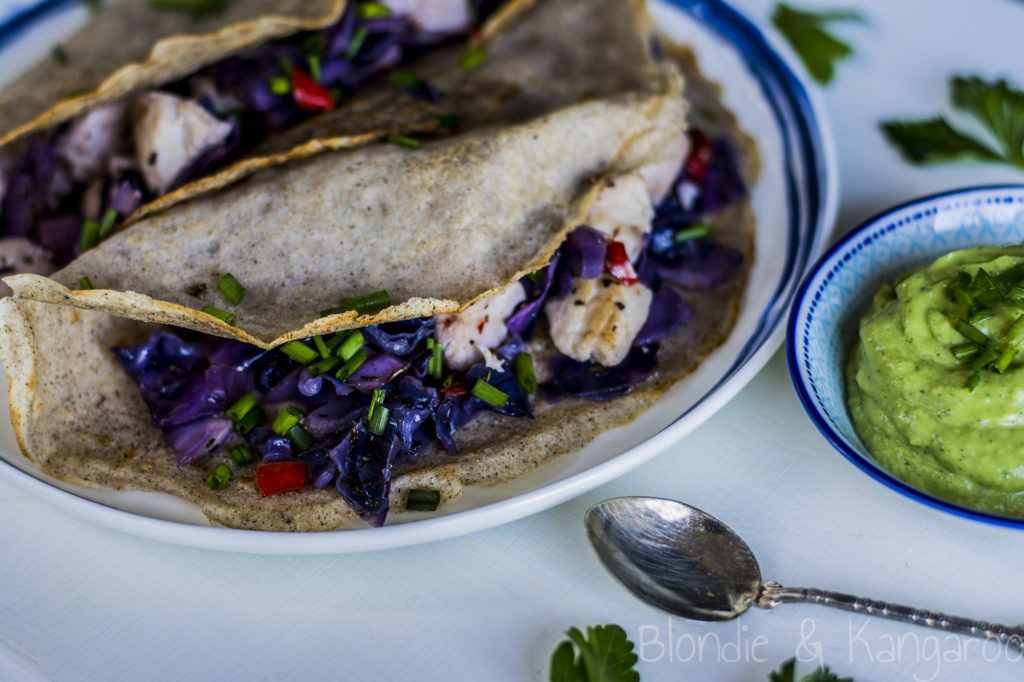 Servings: 3
Ingredients:
Pancakes:
1 egg
1/2 cup buckwheat flour
1/2 cup milk (I used almond milk)
1/2 cup water
pinch salt
coconut oil, for cooking
Filling:
1 large chicken breast, cut into cubes
1 chilli, chopped
3 cups cabbage, chopped
1 tsp dried basil
salt, pepper to taste
coconut oil, for cooking
Toppings:
1 tbsp chopped chives
guacamole (from this recipe)
Directions:
In the bowl mix all ingredients for the pancake butter. Cover with a tea towel and set aside for 30 minutes.
Heat 1 tsp coconut oil on small frying pan.
Pour in the batter, and swirl the pan until you have a thin, even layer. Cook on each side, until golden brown. Repeat with remaining batter. You should get 6 pancakes from this recipe.
On the frying pan heat the coconut oil again, add chopped chicken breast and fry for 5 minutes.
Add cabbage, chilli and fry for another 10 minutes.
Season with basil, salt and pepper and mix everything together.
Place the filling on each pancake and fold to enclose.
Top with chives and serve with guacamole.
Enjoy!