Spring is finally here in Australia and pumpkins are still in season, moreover they are available for a decent price. That's awesome! I decided to take this opportunity and make some pumpkin puree, which I can later use for my kitchen experiments. This time it is a turn for pumpkin pancakes with beetroot and carrot salad. These three flavours combine sensationally. All these vitamins and minerals enclosed in one dish! Pancakes are gluten-free. Instead of wheat flour I've used almond flour and arrowroot (can be replaced with tapioca flour). Simply, deliciousness!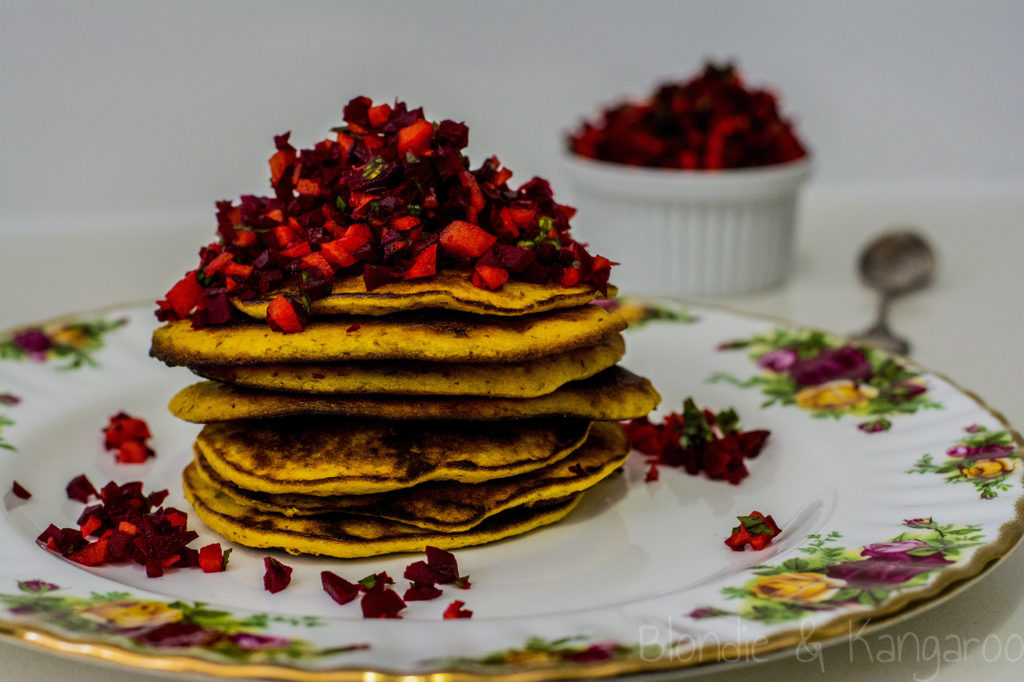 Servings: 3
Ingredients:
2 cups pumpkin puree (from roasted pumpkin)
4 eggs
1/2 cup arrowroot or tapioca
1 cup almond meal
pinch of salt
coconut oil (for frying)
Toppings:
1 large beetroot
1 large carrot
juice from 1/2 lemon
1/3 cup parsley
Directions:
Blend well all ingredients for pancakes until everything is combined.
Heat one teaspoon of coconut oil over a medium heat in a frying pan.
Cook pancakes until both sides have turned golden brown and they are cooked all the way through (around 2 tablespoon of butter).
Meanwhile wash, dry and peel beetroot and carrot.
Cut into small cubes, then mix with lemon juice and chopped parsley.
Serve pancakes with delish topping straight away.
Enjoy!