Buckwheat is one of the healthiest gluten-free grains. Do you know that apart from essential vitamins and minerals it also contains protein? It is a good source of amino acids like lysine and arginine. The first one is particularly important because your body can't make this amino acid on its own and requires it to function properly, this includes growth. That is why introducing buckwheat while being on vegan diet could be very crucial. But it doesn't mean this grain will be beneficial only for vegans. Besides vitamins and minerals buckwheat provides also antioxidants that can help fight many diseases (1). Consumption of it is also associated with beneficial health effects like lowering cholesterol (2) and blood sugar levels (3).
Some time ago I discovered that you can serve buckwheat not only for lunch or dinner, but also for breakfast. How? By creating a buckwheat porridge, which actually gains a lot of popularity recently. I need to admit that at the beginning it sounded like a really weird breakfast for me. But after adding pumpkin and aromatic spices, buckwheat porridge turned really great 🙂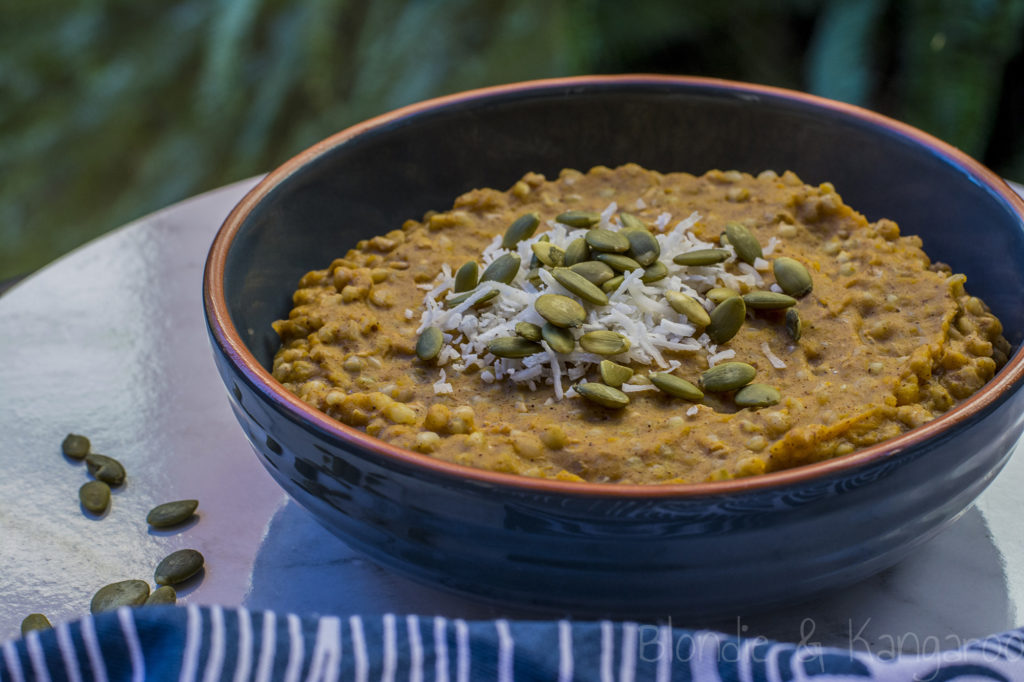 Servings: 2
Ingredients:
1/2 cup buckwheat
1/2 cup water (for cooking) + around 2 cups (for soaking)
1/2 cup milk (I used almond milk)
1/2 cup mashed pumpkin
1 tsp cinnamon
1/8 tsp cardamom
1/8 tsp nutmeg
Directions:
Place buckwheat in a bowl, cover with water and soak overnight.
In the morning rinse with cold water and drain well.
Add buckwheat and 1/2 cup of water to a small pot, cook on the medium high heat till almost all water is absorbed.
Add milk, pumpkin and spices, cook for another 5-10 minutes.
Top with pepitas and shredded coconut.
Enjoy! References:
Quettier-Deleu C. at al. 2000, "Phenolic compounds and antioxidant activities of buckwheat (Fagopyrum esculentum Moench) hulls and flour"
Wieslander G. et al. 2011, "Eating buckwheat cookies is associated with the reduction in serum levels of myeloperoxidase and cholesterol: a double blind crossover study in day-care centre staffs"