If you like gnocchi and pumpkin is in season then this recipe will be perfect for you! It would be a huge shame not to use this healthy veggie when it's still available. I have to admit that this year I started experimenting with pumpkin quite soon. First in the line were gnocchi. They have a fantastic flavour! On top of that, you can serve them with whatever you like. In my opinion they go very well with basil pesto. But do not worry if you run out of it, you can use yoghurt or even ghee as well. They will be still delicious!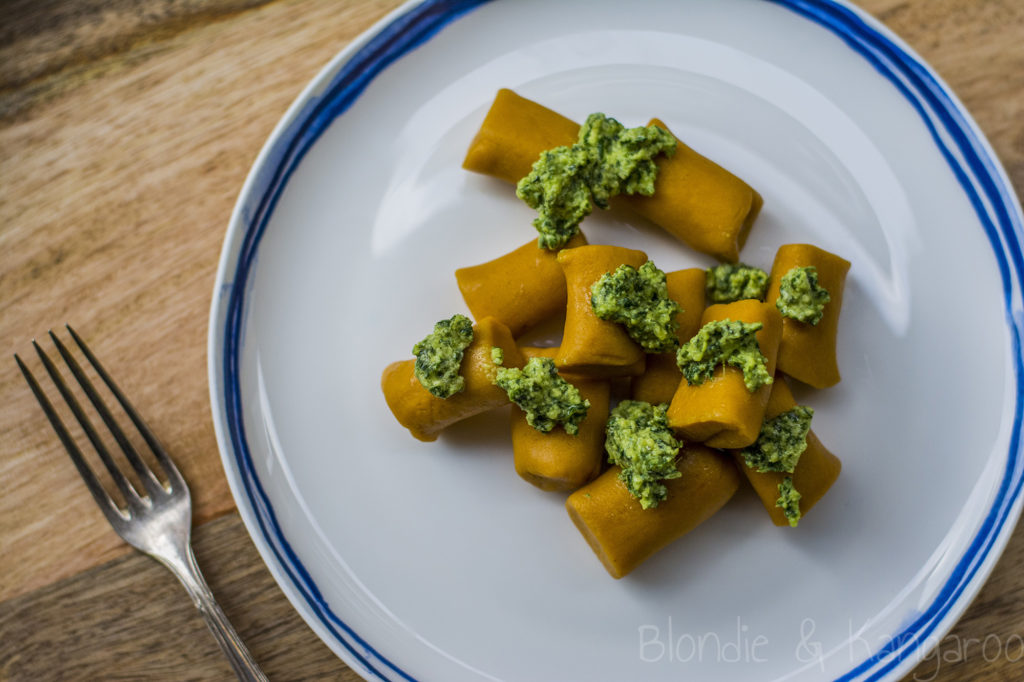 Servings: 2-3
Ingredients:
500 g pumpkin puree (from roasted pumpkin)
150 g buckwheat flour
150 g tapioca flour (or arrowroot)
pinch salt
pinch nutmeg
Directions:
In a bowl add pumpkin puree, flours, nutmeg and salt. Knead everything together until it forms a soft dough (PLEASE NOTE – the dough has totally different consistency than traditional dough for gnocchi so don't freak out 😉 the dough is sticky and it should stay that way).
Dust a work surface with buckwheat flour then using a spoon transfer there ¼ of the dough. Dust it with a little bit of flour and roll into a long 2 cm thick rope.
Cut into 3 cm segments.
In a large pot bring water to the boil. Drop 10 pieces of gnocchi into the water. Stir gently from time to time to prevent sticking.
After they rise to the surface, cook for 2 minutes.
Serve with basil pesto (link).
Enjoy!