Bali for sure can't complain on lack of waterfalls. There are plenty of them and one more beautiful than the other. The title of top one definitely goes to Sekumpul Waterfall. Simply in its own league. It's located in the north part of the island and often skipped by tourists staying in south parts. Getting there is not hard, but it takes some time (almost 2h drive from Ubud, depending on traffic). Nevertheless, it's really worth to organise at least one-day trip to this magical place.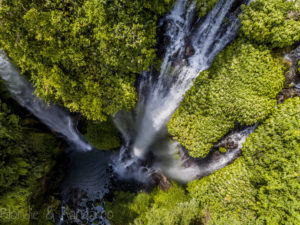 Sekumpul Waterfall is hidden inside picturesque jungle, and walk down to it is a journey by itself. The track is quite demanding especially on parts with steep stairs. The views are worth every step and drop of sweat. A walk amongst streams, rocks and waterfalls will definitely be a memorable experience for everyone. And this vivid green! Something truly amazing!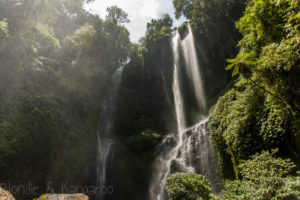 There are two ways to enjoy this area, on self-guided trip or with a local guide. We choose the second option and don't regret it for a second. The price isn't that bad, and from what we learnt the money is divided between people who manage and take care of this area. In addition, our guide turns out to be an awesome travel companion. We spend an amazing couple hours with him.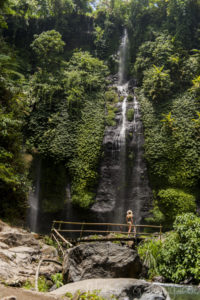 During our walk towards the waterfall, our guide Komng Adit takes us for a cup of morning coffee. While it might sound like nothing special, the place where we are having it makes the experience a truly unique. We are at terrace with an amazing panorama of local rice fields. I'm not a coffee person, but Marcin makes up for both of us. To be honest, in such marvellous place I could drink morning coffee every day for the rest of my life.
Next stop, the top part of the waterfall, where we can launch our drone again and admire Sekumpul Waterfall from a different perspective. This whole area is "drone friendly" and there's nothing else that could make us happier. There are no restricted zones, but remember to fly carefully, don't go above others and stay away from water. Many drones were crashed in there because careless flying.
After breathtaking drone photo shoot, we need to beat the path full of stairs all the way down to the bottom of the gorge. Putting the camera back in the bag sounds like a great idea. It's a rather long way down and it really gets steep, and slippery after rain. So, it's really better to have both hands available and hold onto rails all the time.
The only thing left is bare foot river crossing and we are at the bottom of the waterfall. The view is just stunning. Being there you can really feel the true power of this place and understand how small we are compared to it. We are just standing there and watching it for a good couple of minutes without moving or talking. Sekumpul Waterfall is in reality a cascade of 6-7 waterfalls measuring 80 meters of height. The water falls down with such a power you can hear it from long distance and it creates a cooling mist filling the gorge with fresh air. What's really cool is that you can swim there too! And no crocs or other dangerous creatures around like in Australia.
This is not the end of attractions for today. Sekumpul Waterfall is not the only one in this area. Not that far away there's another one called Fiji Waterfall. The path leading to it is so beautiful that would be a huge loss to skip it. Streams, bamboo bridges and this intensive green forest, even more vivid than the one we admired just a minute ago. The nature keeps surprising us with every step we take. We are falling in love with this place.
Fiji Waterfall seems to be even more powerful. The water drops on rocks with even greater power. The mist is everywhere around us. After few seconds we are all wet and so is our gear. Coming here it's a good idea to have a waterproof cover and a wipe. The surroundings are asking to be photographed but with all the water around it takes no time before it's on lens and ruining your perfect photo 😉
On our way back we have to fight the stairs for last time, and trust us it was a long and exhausting battle. Fortunately, our guide ticket included a motorbike ride back to the parking. I must admit, I was really looking for this, because I have never been on a motorbike before. Thankfully, I don't have to drive it, this could end really bad for me. Especially, because we are driving on a rather narrow path with countless pot holes and hills. Sitting in the back I am admiring the skills of my driver. Unforgettable adventure and a first motorbike ride checked! It's awesome to do things for the first time in life!