We will be honest with you, during our first days in Bali while traveling through south parts, we didn't feel anything special about it. We were wondering constantly where is this magic of that place everyone talks about. Everything changed once we have arrived in town called Ubud. This was the first indication, that Bali gets more beautiful the more you go to the north. Ubud is awesome as starting point for trips to local rice fields, waterfalls and temples. On top of that the town by itself is really nice. You can still get to know the true Balinese culture, even with it being absolutely packed with tourists.
What to see in Ubud
Ubud Royal Palace (Puri Saren Agung)
Ideal spot for admirers of Balinese culture. The Palace was built in early XIX century and it's still maintained in really good condition. During the day, you can admire extraordinary architecture, sculptures, ornaments and garden. And at night it becomes a home for traditional dance shows. There is no entrance fee to see the palace, but if you are fancy for a dance show you will need a ticket.
Pura Taman Saraswati Temple
Beautiful temple built for goddess Sarasvati (goddess of wisdom, art and music). Its characteristic feature, beside stunning Balinese architecture, is a picturesque pond covered with lotus flowers. While it's located in the centre, it's hidden behind Starbucks and easily overlooked. And that would be a huge shame because the temple makes really good impression.
Ubud Market
Something for shopping fans. We don't like bargaining with sellers and we aren't even remotely good at it, but we still couldn't miss this place. Some really good things can be found there, starting with clothes, bags and ending with really original souvenirs. But don't let the first looks fool you and always carefully examine products before buying, these amazing picks are amongst some really cheap quality stuff.
Ubud Centre
It's an awesome idea to take a stroll through central parts of the town. Ubud has some amazing original cafes serving healthy food, little boutiques and galleries. So, don't forget to take a walk around this fancy town.
Things to see near Ubud
Tegalalang Rice Terraces
Tegalalang Rice Terrace has definitely some jaw-dropping views. One of the most popular places on Bali's bucket list. General entrance fee is 10,000 IDR (1 AUD). Just bear in mind, once you pass a little bridge at the bottom you will enter field belonging to a different owner. You will be asked for a donation of 10,000 IDR which is a fair amount considering how well fields are kept.
Tirta Empul Temple
Temple located near town Tampaksiring (around 30mins drive from Ubud). It's famous for its holy spring waters, which makes it a target destination for countless believers from around the world. They all come here for a sacred ritual of purification. This place was created in year 926 for god Vishnu. Sarong is required to enter the temple and you can rent one for a small fee. Women should also have their hair tied.
Pura Gunung Kawi
Another temple worth visiting. It takes some effort to get to it though. First you have to wade through a local market, with almost every seller trying to show something you "urgently need to buy now" and where everything suddenly costs "one dollar". This first "obstacle" is followed by countless number of stairs (heading down). But it's definitely worth the effort. Views are magnificent. Carved in rock temple is surrounded with rice terraces, streams and small waterfalls. The rock bridge leading to it is definitely a great spot for a photo, or two 😉
Kanto Lampo Waterfall
A waterfall hidden in a heart of Balinese jungle. Well at least that's how we imagined it before coming here. Hidden, not so much, it has really easy access path, so easy that we felt really disappointed by the number of people swimming under it. Fortunately, after taking a small path and climbing nearby cliff the view changes dramatically and is truly beautiful.
Tegenungan Waterfall
The most often visited waterfall in Bali. And you can immediately see why, the place is just spectacular, plus (again) with really good and easy access. Located south from Ubud, Tegenungan Waterfall is a destination definitely worth putting on your bucket list. Besides having an opportunity to swim here, you can hop on one of the famous "Bali swings" or take a picture inside one of many nests. In nutshell, a spot with countless opportunities for that amazing Insta pic.
Where to eat
Bali Buda Cafe
Our favourite. No matter if you are vegan, vegetarian, on Paleo diet or without any dietary restrictions. Everyone can find something for themselves here. What's worth mentioning is that the café operates with the "zero waste" principle. Dishes served on banana leaves and menu in form of a newspaper (which you can take home with you) are just a couple of nice surprises waiting here. After healthy meal you can do some groceries here too, thanks to little (but well-stocked) shops connected to the cafes. Healthy food, natural cosmetics, you can find it all there.
The Seeds of Life
Vegan only restaurant with rich and varied menu. It has a really strong hipster vibe. Be careful not to trip on one of the many customers' shoes left at the entrance. Chairs can be counted on one hand. This is because most tables are really low and require you to sit on a cushion. If you are planning on visiting it, definitely try their gnocchi, the best we ever had! Not even mentioning desserts, our kryptonite 😉 The choice is huge and taste is to die for.
Soma Café
Worth visiting not only for really tasty food, but also for its setting. Wonderful yard, hanged lights and music really create a unique atmosphere. Menu is full of raw vegan dishes and vegetarian options enriched with local cheeses, eggs and fishes.
Earth Café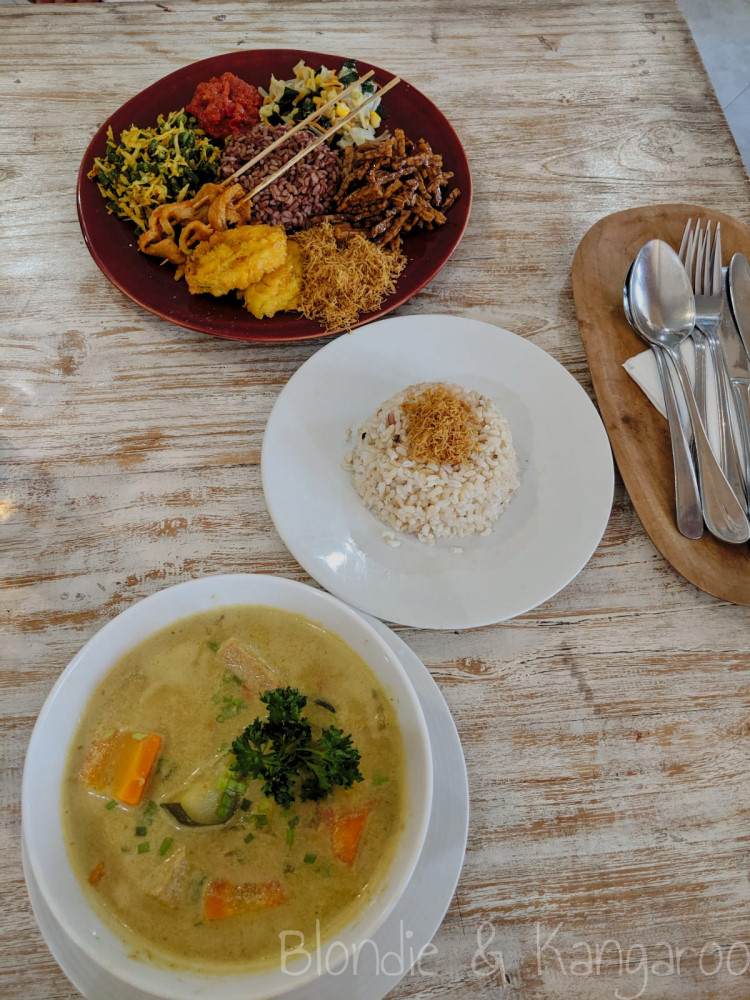 Shop and cafe in one. Perfect spot for brekkie or lunch. The sooner you can visit it, the better. Some dishes might become unavailable through the day. You can order food using Whatsapp too. Definitely try Quinoa Coconut Curry, you won't regret it!
Where to stay
Ubud has a large number of hotels in its offer, for any budget. On booking.com you can find heaps of amazing offers.
An alternative is of course our usual pick, the Airbnb. That's what we used to book a place from local family and live a bit like a local. Despite doing it only few days before our trip, the price was still low and really attractive.