A good recipe for gluten-free pizza is literally priceless. To get one, which doesn't taste like a cardboard, it's a huge challenge. My version of pizza had to be prepared without yeast, sugar or gluten. To keep the right consistency I used eggs, almond meal and coconut flour. This pizza is quite different than the traditional one, however it's not an issue for us, mainly because it is freaking yum!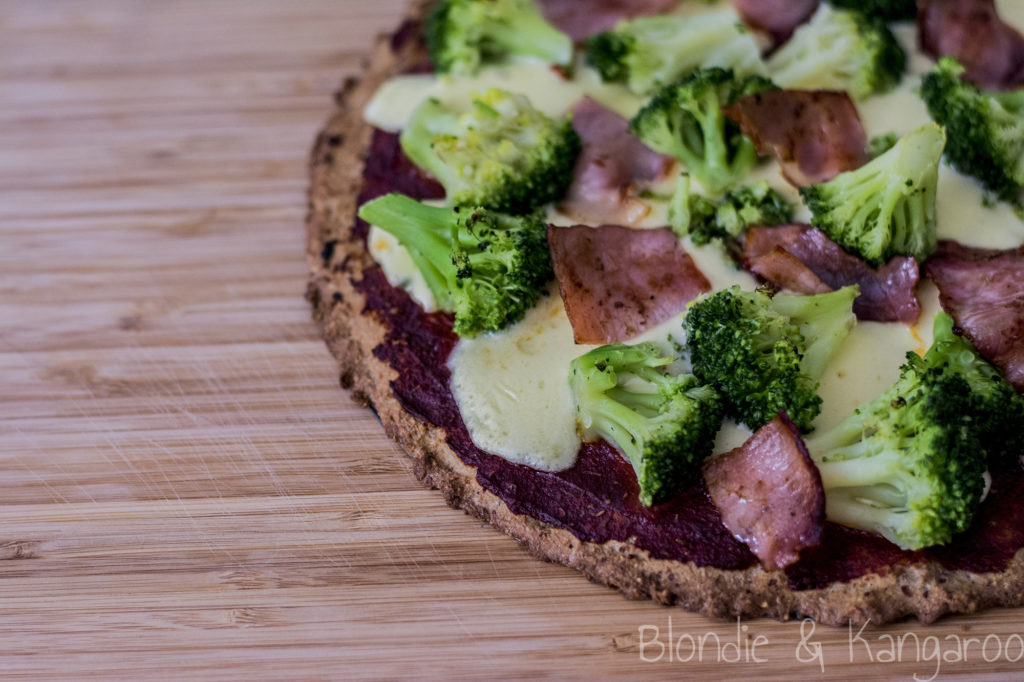 Servings: 4
Ingredients:
Crust:
1/4 cup coconut flour
1/2 cup almond meal
1/2 tsp baking soda
1/2 tsp garlic powder
1 tsp apple cider vinegar
2 eggs
1 tbsp coconut oil
1/4 cup milk (I used almond milk)
pinch of salt
Sauce:
70 g tomato paste
1 tbsp extra virgin olive oil
1/2 tsp dried basil
1 tsp dried oregano
Toppings:
1/2 cup mozzarella cheese
1 cup broccoli (cut into small florets)
100 g bacon
Handful of rocket
Directions:
Preheat the oven to 190°C.
Grease a baking pan with coconut oil (I use the one for a tart).
In a bowl mix all ingredients for the crust. Pour the batter into your baking pan.
Using your hands spread the mixture, covering the whole surface evenly.
Place in the oven for 15 minutes or until golden brown on top.
Meanwhile in a small bowl combine all ingredients for the sauce.
When the crust is ready, take it from the oven, add the sauce and toppings (except rocket).
Place back in to the oven for 10 minutes.
After it's done, top the pizza with fresh rocket.
Enjoy!