It is not a secret, that veggies should be a main component of our diet. But what does "main component" mean? Should I eat them with all my meals? Well the answer is: yes! At least try to make that happen. World Health Organisation (WHO) recommends that 400 grams should be eaten every day, which roughly makes 5 portions per day. Of course, the more the better. If your plate isn't dominated by veggies, then starting with a 5 portion rule is a very good idea. Feel free to increase the number of portions with time. If you make it all the way to 8-9, I will be truly proud of you! Here's my idea for delicious salad, a good place to start. You can eat it alone or use as side for other dishes. It matches really nice with meats and fishes. Delicious with eggs and veggie balls.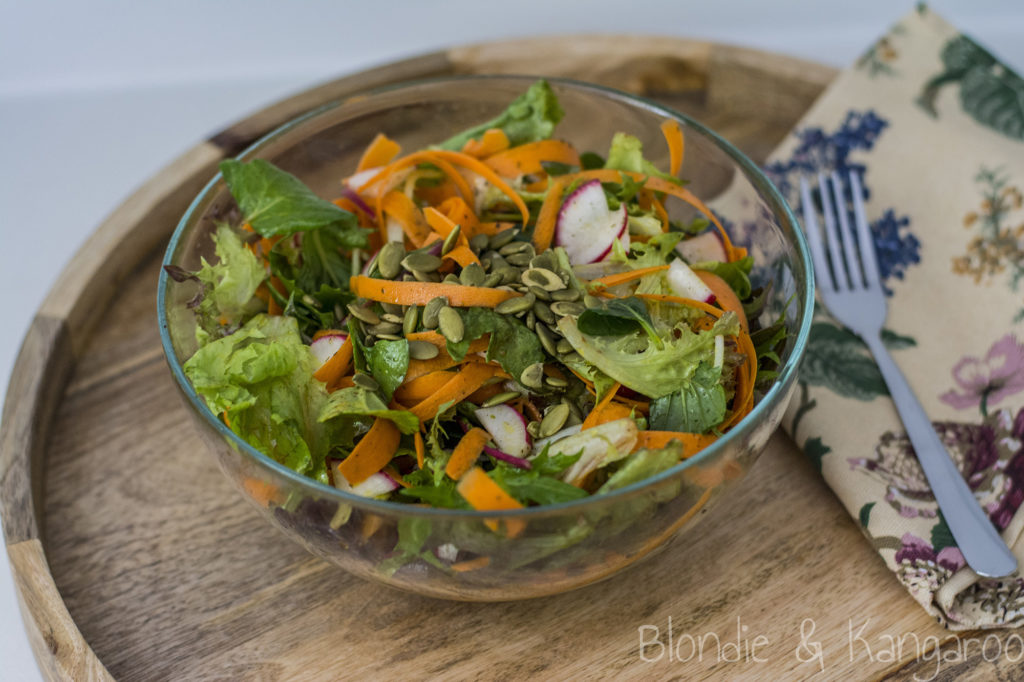 Servings: 2
Ingredients:
150 g mix salad greens
1 big carrot
4 radishes
1 tbsp pumpkin seeds
Sauce:
2 tbsp extra virgin olive oil
1 tbsp apple cider vinegar, or lemon/lime juice
Spices: Salt, pepper, dried basil, marjoram, oregano
Directions:
Wash and dry all veggies.
Peel the carrot and then shave it into long, thin ribbons using a peeler.
Cut radishes into squares.
Mix all veggies in a bigger bowl.
In a small bowl or glass combine all sauce ingredients.
Toss salad with the dressing and pumpkin seeds just before serving.
Enjoy!