Not that many days ago a Boyfriend's Day has been celebrated in Poland. I need to admit, I am not good when it comes to dates (even our anniversaries were often slipping out of my mind, uuuups!). Fortunately, this year I remembered about Boyfriend's Day few days prior it. I knew I would not have enough time to prepare a complicated, beautiful cake. So I came up with an idea to make cupcakes and decorate them like mini cakes 😉 I had some bananas, grounded almonds and buckwheat flour. I've added few eggs, spices and the experiment turned into quite cool cupcakes 🙂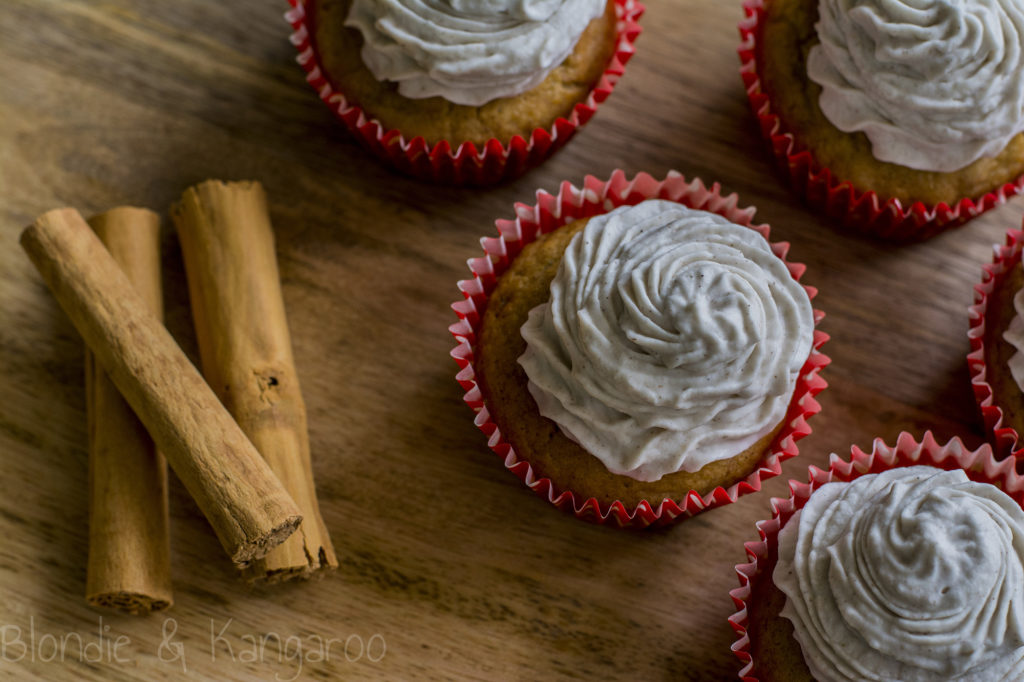 Servings: 12
Ingredients:
80 g buckwheat flour
60 g almond meal, or almond flour
1 tsp baking powder
1 tsp vanilla extract
3 large eggs
1/4 cup melted coconut oil
3 medium very ripe bananas
1 tsp cinnamon
1/2 tsp cardamom
1/4 tsp nutmeg
1/4 tsp dried ginger
optional: 1-2 tbsp honey*
Frosting:
1 can coconut cream – 400 ml (place can of coconut cream in the fridge upside down for 24 hours)
1/8 tsp cardamom
1/4 tsp cinnamon
1 tbsp honey
Directions:
Preheat the oven to 180°C (or 350°F).
In a bowl combine the buckwheat flour, almond meal, baking powder, cinnamon, cardamom, nutmeg and ginger.
In a separate bowl, mix the eggs, coconut oil and vanilla extract.
Add the dry ingredients to the wet and mix to combine.
Mash the ripe bananas with a fork.
Add bananas to the batter and mix again.
Line a cupcake tin with paper liners.
Spoon the cupcake mixture into each cupcake liner (about 2/3 full).
Bake for 25 minutes or until toothpick inserted in the center comes out clean.
Remove cupcakes from the oven and allow to cool completely before frosting.
Take the coconut cream out of the fridge, flip it over and remove the lid.
Pour the liquid into a glass jar and store in the fridge (you can use it for a smoothie).
Gently scoop out the coconut fat, placing it in the bowl.
Using a mixer, whip the coconut cream with the rest of ingredients until light and fluffy.
Pipe the frosting onto each cupcake and serve.
Store in the fridge.
Enjoy!
*If you want you can add few tablespoons of honey to the batter. It depends how much sweet you want it to be. Personally, I haven't added any additional sweetener. I used very ripe bananas so for us cupcakes were sweet enough 😉