Melbourne, the capital city of Victoria. The most European city in Australia. Since moving to Aussie we had an opportunity to visit it twice. Our first encounter was somewhere between autumn and winter, when we had our first visitor (cheers to Magda 🙂 ). This is when we experienced that it can be cold in Australia. Well colder than we thought, cause temperature was above zero, but still we did regret leaving all our warm clothes back in Poland. For second trip we decided to go there in summer and show it to my cousin, known on this blog as Ms Redactor. No surprises, the weather was much nicer this time 😉
It took us some time to go through all these pictures we took and prepare a post describing what is worth seeing and doing in this city. Are you going to Australia soon? Melbourne should definitely be on everyone's list of things worth visiting. Below, you can find a mini guide with our list of top 10 things to do in this city.
1. Take a ride in heritage tram line, completely free.
One of the best ideas for free sightseeing trip around Melbourne. City Circle Tram is a line going around CBD, stopping by most tourist attractions. All that with commentary coming from speakers mounted inside tram. This is truly awesome idea, just make sure to not plan your trip during rush hours, trams will be packed and you won't hear anything.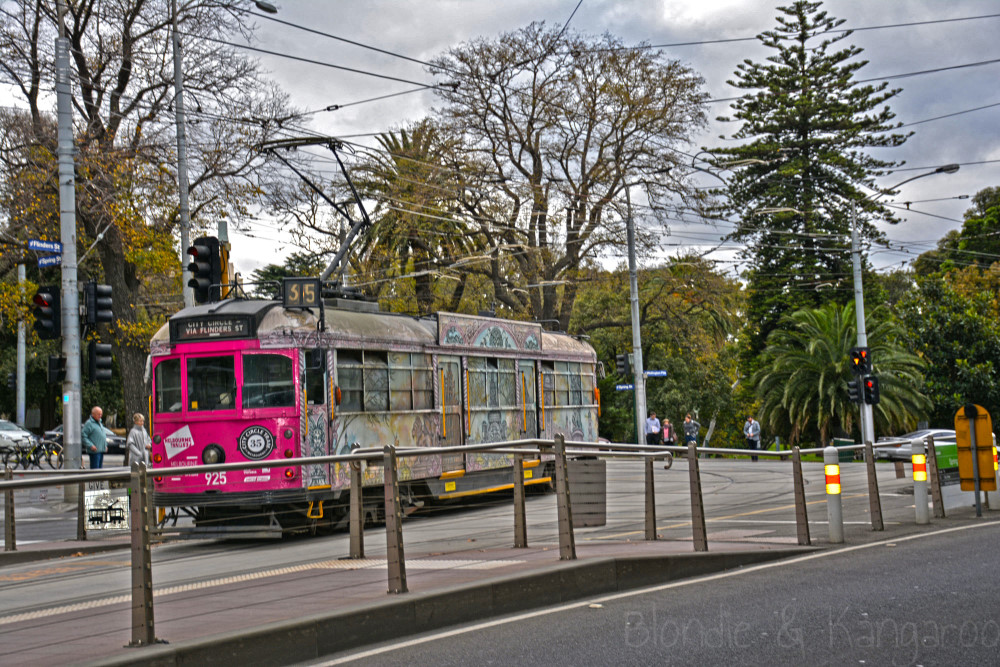 2. Visit Federation Square after sunset.
Federation Square is a Melbourne's icon, some say it's like Opera House for Sydney. It's mentioned in every guide as a place worth visiting. It is a home for many shows and festivals. Federation Square is also a meeting place, something like "Pregierz" in Wroclaw (Poland) 😉 Not everyone will like it here though, many have mixed feelings and see it as only a couple of new buildings and peculiar architecture. In our opinion it's worth going there after sunset. That's when it gains a truly unique character.
3. Visit the oldest train station in Australia.
Located next to the Federation Square is the Australia's oldest railway station. Flinders Street Station, because that's its name, was built in 1854. The building makes huge impression. It's definitely worth to spend a while to discover its interiors and exteriors. There are even rumors about it being hunted by a ghost called George.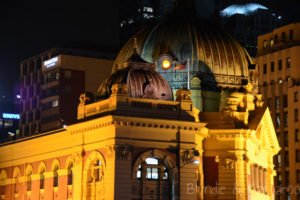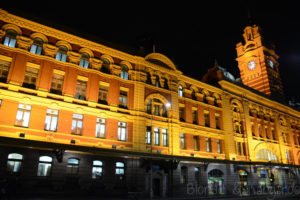 4. Admire colourful sheds on Brighton Beach.
Brighton Beach is definitely on the top of a list of our favourite places in Melbourne. Both in summer and winter we had a really great time there. Thanks to the colourful sheds, called bathing boxes, it really has a unique style and beauty. Despite numerous restrictions the owners need to comply with, like painting them in selected colours and within provided instructions, or overnight stay ban, these sheds are pricey. Average cost of one is roughly 200k… yeah that for a 2 by 2 wooden shed!
5. Take a stroll around CBD.
Taking a walk around CBD is something we recommend to do both during day and after sunset. Especially along river Yarra. Melbourne, compared to other Aussie cities is really colourful, with many statues and other works of art. After sunset next to the Crown Casino there is a quite impressive fire show (fires shooting up from pillars located on the footpath).
6. Get to the top of Shrine of Remembrance.
Extraordinary monument built to honour these died in World War I. Located next to the botanical gardens. You can enter it for free. Inside there are numerous interesting exhibitions, and from the roof you can admire the marvellous view of the city.
7. Rest in Royal Botanical Gardens.
One can wander in this place for hours. Even in the winter, when almost nothing blooms, these gardens were truly magical. Perfect spot for a picnic, bbq and romantic date. It might be worth to get a map as the gardens are huge and it's easy to lose your way.
8. Take a walk along St Kilda Pier.
St Kilda Beach is the most famous beach in Melbourne. It's easy to get to it because it is located close to the city (the closes of all beaches). Its surroundings are full of restaurants, cafes and shops. And of course, a Luna Park. However, the most popular part is the pier. Maybe because after sunset you can spot wandering penguins at its end. We weren't fortunate though and didn't see any. But nothing's lost! There will be another time 😉
9. Lose yourself in street art "galleries".
Melbourne is famous for many things, but street art is the number one. Forget about grey and boring walls. Most alleys in CBD is full of colourful masterpieces. Hosier Lane being probably the most popular one. It is a place of countless photo shoots. During our visit we came across a bride with bridesmaids. But that's nothing compared to a surprise mini concert Ed Sheeran decided to make there 😉
10. Watch sunset from a beach.
Sea sunsets are something we miss the most in Sydney. From our beaches we can only watch sunrises, but let's be honest… who wants to wake up in the middle of the night to drive to a beach for a sunrise. That's why watching sunset was on top of our Melbourne's TO DO list. Brighton Beach was our choice. Both in summer and winter, the view was just wonderful.