We decide to take this day really easy. No waking up before the dawn or watching sunrise. No rush with anything. Just enjoyment of brekkie and morning tea. After last adventures, long drives and treks we decide to regenerate. All that because the longest route still awaits us. 11 kilometres long walk around a mountain. But this is no ordinary mountain! After 3 days spent on the outback, this was the day everyone was waiting for. Uluru at our fingertips. So far Aussie desert did not disappoint us. It amazes us more with each new place. Will this change after today? Let's see : )
The most famous Aussie rock is located in National Park Uluru – Kata Tjuta, put on UNESCO list in 1987. The formation is 348 meters height, which makes it 24 meters taller than Eiffla Tower. Uluru is more like an iceberg with most of its mass located underground. English name, Ayers Rock, was given to it to honour the Prime Minister of South Australia – Henry Ayers. Sacred rock takes its distinguish red colour from iron oxide. Additionally, its hue changes during the day depending on the light conditions.
The very first thing that comes to our attention is the size of it. The rock looks big from the distance, but you really experience its size standing couple of feet away from it. Uluru is simply huge. We really don't understand why people are climbing it, especially those with kids. It is really dangerous to start with. It's true that climbing is not prohibited (yet), but there's a plan to change this in October 2019. For now, Anangu people ask everyone to respect their culture and believes, and restrain from climbing on it. We decide to honour this request and take a long walk around it.
Prior our flight, when watching pictures of Uluru in Internet or guides we thought it's slim, uniform and smooth. Why? We really don't know. When we are finally standing "face to face" with it, it hits us how wrong our image of it was. The rock is really diverse, with varying shapes, cavities and cracks. Wandering around Uluru you can find a large number of caves and nooks, each having its own history. In one place Aboriginals taught young boys how to become men, in another one, women were learning how to prepare food. Even the elders had their own cave. Everything was happening in sync with nature and according to believes and tradition of Anangu people. Some parts of the rock are marked with signs asking tourists to not photograph them mostly because of their sacred meaning. It allows everyone to put down cameras and focus on connecting with this place.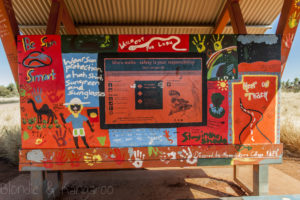 While route goes around the same rock it does not feel boring at all. First, we wander through sand warmed by the Sun, followed by path through area full of trees filled with sounds of local birds, and then we hide in a shadow or go inside one of the caves. The track is the longest of all we did so far on this trip, but in contrast it's the easiest one. No hills, rocks to climb, or stairs. The path is really pleasant and accessibly to almost everyone.
We finish the trip with a visit in nearby Cultural Centre where we learn about history of Anangu people. Next, we go to the camp-ground where we spend evening doing BBQ and watching night desert sky full of stars. We are flying back to Sydney the following day. Before heading to the airport, we decide to have a quick, "good-bye" ride around Uluru, just to feel its magic one more time.
Check previous posts about our outback adventures: