We started our second day at the dawn. After magical sunset (see more in the first post) we've decided that we have to see the Uluru during sunrise too. Initially the clouded sky wasn't giving us high hopes for an amazing view. Fortunately for us, the weather started clearing out when first Sun rays showed up. The sky and sacred Aboriginal formation turned into a colourful and magical landscape. Colours were changing constantly minute after minute. The sunrise turned into an amazing light show, definitely worth waking up so early!
Hypnotised by this magical place we packed into the car and went on to next adventure. The day was just starting, but what an unforgettable start it was! There was some driving waiting for us, 300 km of it to be specific. While vision of straight road, with no crossings nor sharp turns might seem amazing, it can be challenging. The "hype" lasts maybe 30 minutes with everyone admiring surroundings. After that, everything starts looking similar. While traffic is low, one has to have their eyes widely open and constantly check roadsides for animals. Wait a sec, so there's something living there beside snakes? Yes indeed, camels, cows, kangaroos or emus, you name it. Another thing to watch out for are road trains. Those steel monsters go through outback at full speed so better hold the steering wheel when passing them. It's a good idea to have more than one driver and swap when you feel tired. This wasn't a problem with 4 of us in a car : ) We went to Uluru with our friends Karolina and Michał so our road was full of laughs and talks : )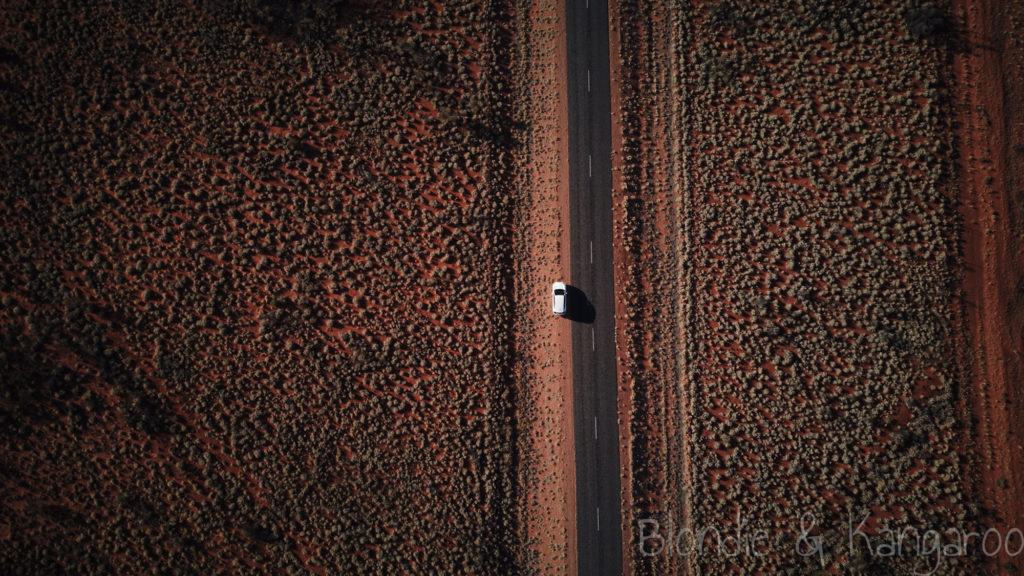 We didn't make too many stops along the way. To be honest we had only one, when we decided to have a quick coffee in Curtin Springs with a view on mountain Conner (which is often confused with Uluru by tourists). We were passing by many signs alerting about flood ways. Initially we were scratching our heads, but we learnt later that floods are really common in there, especially during summer.
The day was still young when we arrived at Kings Canyon. Since we were truly amazed by the landscape there we decided to change our plans a little and trek it right away. We took the route called Kings Canyon Rim Walk which is 6 km long. It takes around 3-4 hours to finish it. It is not an easy route, especially at the very beginning where it starts with a steep climb to the top of canyon. The view from there is such marvellous that it makes each step and drop of sweat worth it! Both climb and the views were truly breathtaking, former literally ; )
Next on our path was a walk through gully with lush vegetation, majestic rock formations and amazing sandstone colours. We could hear a lizard running away into a bush, birds singing in the distance, and… swarms of flies around us… ohhh what an experience : )
With each step we were more and more amazed by the landscape. We find it hard to believe that many people skip this area, thinking it's not worth seeing. Half way through the trek we all agreed that Kings Canyon should be mentioned in every guide as a "must see" place.
The trip couldn't go on without surprises. In Garden of Eden, which has a small pond inside, we had a close encounter with a snake. Venomous? We don't know ; ) We live in Australia for 4 years already and have seen a number of sneaks on our trips, but we still trouble with identifying them. So, as a precaution we treat all of them as venomous and potentially deadly, keeping our distance and leaving them alone.
Couple interesting facts about Kings Canyon:
created 400 million years ago,
rises 270 m a.s.l.,
lies in Watarrka National Park, in Northern Territory,
home for Aboriginal tribe Luritja for more than 20 thousand years.
After long walk, tired, but really happy with all those new experiences we went for a well deserved dinner in Kings Canyon Resort. That was where we had booked a cabin for night. The cabin consisted of a single room we all shared together. Bathrooms (and this time also kitchen) were outside. As we found out, it's quite common to see dingoes in that area after sunset. We've never met this Australian animal so the signs placed everywhere around resort were really handy. Don't approach, understood! We've heard stories about daredevils who tried to pet them and how they ended up.
When in Kings Canyon Resort you definitely need to go to the nearby view point during sunset. The view of canyon in setting sun colours is as magical as the one we saw with Uluru. With all these fresh memories we went to beds and slept like rocks. Just to be awoken at 4 am by howl of dingoes. About that and our next adventure in next post, soon : )