One of my favourite things in the kitchen is creating sweet treats. So, when it turns out it can also be healthy and give my body huge amount of goodness, then preparing them is even more enjoyable. Today, the superfood I use in my recipe is a gelatin. It's a protein derived from bones, connective tissue and hides of animals. One can say it originates from bone broth cooked for many hours. The gelatin has many health benefits, for example it improves digestion and boosts metabolism. It helps to heal the gut lining, thereby preventing the leaky gut syndrome1. Gelatin also soothes symptoms of osteoporosis and joint pain by reducing the inflammations, it's also great for people with injuries2. And for more, it helps with insomnia and enhance the quality of sleep3. Remember though, the quality of gelatin is very important, so animals should be grass-fed. Always choose products from reliable sources, that's the whole secret 😉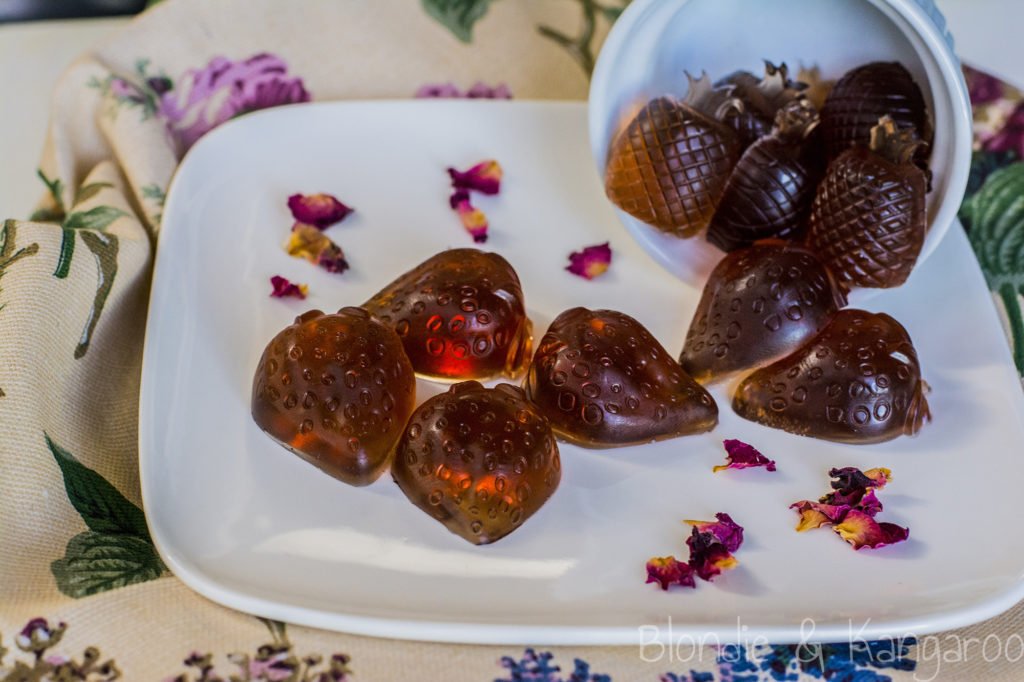 Ingredients
4 bags of your favourite tea (I used the blend of hibiscus and rosehip)
3 cup boiling water
8 tbsp gelatin
1/2 cup cold water
2 tbsp raw honey
Directions:
Dissolve the gelatin in 1/2 cup of cold water. Let it sit for few minutes until it has become gel-like.
In the saucepan or metal bowl, transfer tea bags and cover with boiling water. Put the lid or plate on, and let it steep for 10 minutes.
Remove tea bags from the saucepan. When the water mixture is still hot, add the gelatin and stir until everything is combined, without any lumps.
Let it cool for few minutes, then add raw honey and mix well.
Pour into container or moulds and refrigerate for at least an hour.
Peel out of moulds or cut into squares if using container.
Store in the fridge in an airtight container for up to one week.
Enjoy! References:
Frasca G. et al, 2012, "Gelatin tannate reduces the proinflammatory effects of lipopolysaccharide in human intestinal epithelial cells"
Schauss A. et al, 2012, "Effect of the novel low molecular weight hydrolyzed chicken sternal cartilage extract, BioCell Collagen, on improving osteoarthritis-related symptoms: a randomized, double-blind, placebo-controlled trial"