Homemade gummies are a great alternative to store-bought lollies which are packed full of sugar and artificial dyes. The main ingredient of healthy gummies is an underestimated gelatin. Did you know that it is actually a "superfood"? You can flavour this wonderful treat to your liking and only imagination is a limit. I do it all the time ; ) Usually I use nut milk and fruits. The recipe I have for you combines mango and coconut, resulting in quite unique flavour. Simply and tasty pleasure. Yum!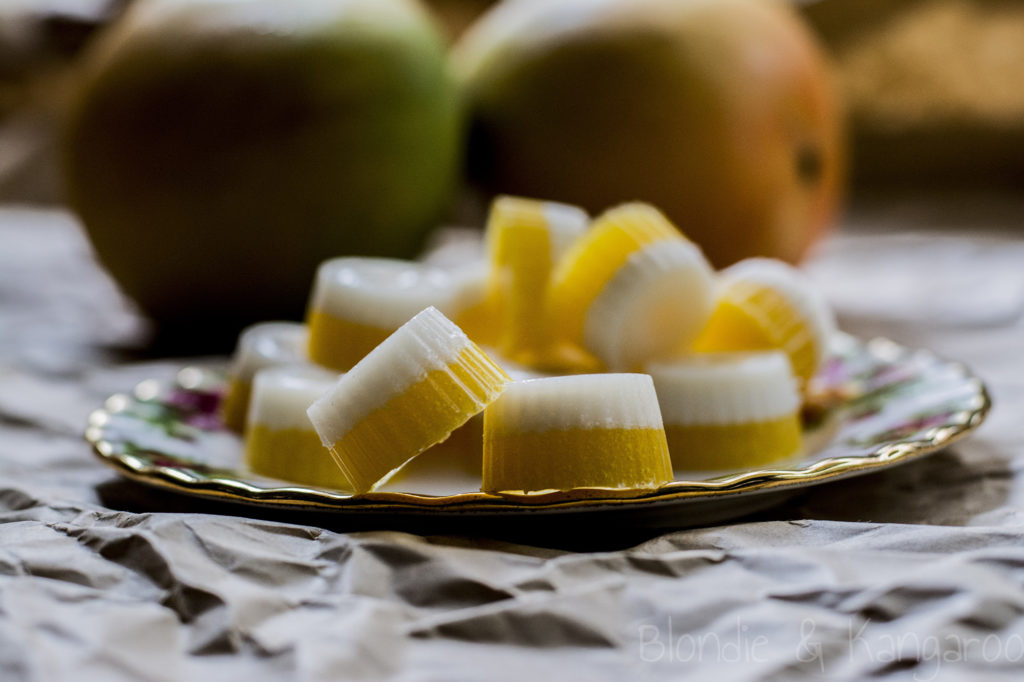 Ingredients:
1 large mango
400 ml coconut milk
2 tbsp honey (you can use maple syrup or rice malt syrup instead)
8 tbsp gelatine
1/2 cup cold water
Directions:
Dissolve the gelatin in 1/2 cup of water. Let it sit for few minutes until it has become gel-like.
Peel mango, then blend until smooth.
Place it in the saucepan and heat, but don't bring it to the boil.
Remove from heat and add half of gelatin mixture and stir until it has completely dissolved.
Pour into container or moulds and refrigerate for 20-30 minutes.
Meantime in the saucepan heat the coconut milk and honey, but again don't bring it to the boil.
Remove from heat, add the rest of the bloomed gelatin and stir until it has dissolved.
Once the mango layer is set enough pour the coconut mixture on top and place it in the fridge for 2 hours.
Peel out of moulds or cut into squares if using container.
Store in the fridge in an airtight container for up to one week.
Enjoy!