Christmas is just around the corner. It's about time to start thinking about the menu. What could be more festive than little Christmas tree cakes? With healthy and guilt-free option of course. Sponge is gluten-free. It has an amazing chocolate flavour with a hint of orange, such an amazing duet. On the other hand, the cream is diary-free. It's made from cashew nuts, which not only taste marvellous but also give the cream perfect consistency for decorating your chocolate Christmas trees.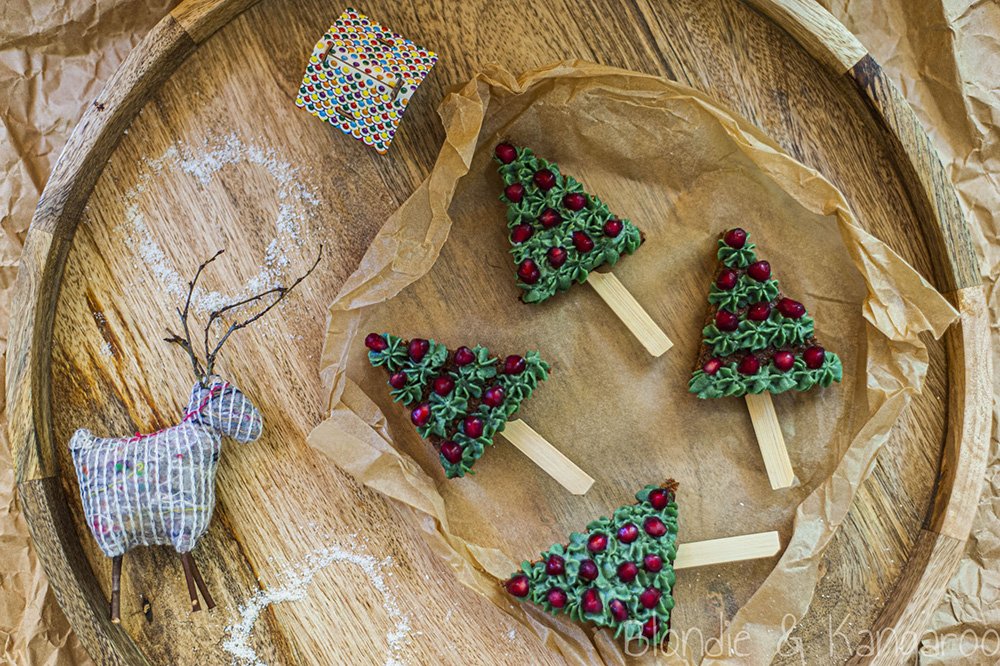 Sponge
55 g coconut flour
20 g cacao
10 g tapioca flour
1/2 tsp baking powder
¼ cup coconut oil, melted
3 eggs
Pinch salt
1/2 cup orange juice
Zest from half orange
1/2 cup honey (you can also use maple syrup or rice malt syrup instead)
1/2 tsp vanilla extract
Cashew cream
1 cup raw cashews – soaked in water for 6 hours, drained and rinsed
2-3 tbsp honey
3 tbsp coconut milk
1/2 tsp spirulina
Additional
Pomegranate seeds (for decoration)
Bamboo skewers (cut into smaller pieces)
Directions:
Preheat the oven to 180°C (356°F).
Grease square cake tin (21×21 cm) and line it with baking paper.
In a bowl combine coconut flour, tapioca flour, cacao and baking powder.
Separate the eggs.
In second bowl mix yolks coconut oil, vanilla extract, honey, zest and orange juice. Add dry ingredients and mix again.
In another bowl whisk the egg whites with pinch of salt till stiff. Gently fold them into the chocolate cake butter.
Pour cake mixture into prepared cake tin.
Bake for 25-30 minutes or until the skewer comes up clean.
Remove it from the oven and allow to cool completely.
Mix all the ingredients for the cream until nice and fluffy.
Cut the cake into small triangles.
Press bamboo skewer in end of triangles to make trunk.
Pipe the frosting on the top.
Garnish with pomegranate seeds.
Arrange pomegranate seeds on cake to look like lights or ornaments.
Store in the fridge.
Enjoy!