Darwin is a city located in Australia's Northern Territory, its capital city to be specific and main port on Timor Sea. One thing is sure… it's far away from everything, in the middle of nowhere. Most of the people visiting it come here looking for an adventures on Aussie Outback, the Australian desert. We decided to visit it while travelling to Bali. Darwin was on the way to it and it's just around the corner from Indonesia.
What's the best time for visiting Darwin?
The city is located in tropical climate zone, with yearly average temperature of 30 degrees. This means summer clothes all the year around, even during "winter". In reality Darwin has two seasons:
wet (from November to April),
dry (from May to October).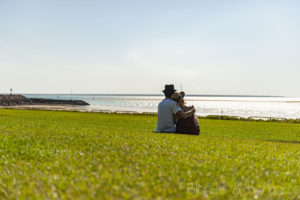 The wet season is all about huge air humidity, violent storms and monsoons. In that period many tracks in national parks are closed and swimming is prohibited in most spots. Of course, there are upsides of this time too. Lower, out of season prices are a very good example. In addition, you can see a different face of local nature and capture some amazing thunderstorm photos to your collection. It shouldn't be a surprise that waterfalls look much better during the wet season. On the other hand though, it's good to remember that rain can ruin your plans anytime. That's why visiting these parts of Australia is much reliable during dry season. While reliable is great, the "more expensive" and crowded sounds much worse. But that's a price you have to pay for guaranteed weather. And to be honest there's not that many tourists here compared to other cities in Down Under. All of that makes Darwin a perfect trip destination during Australian winter.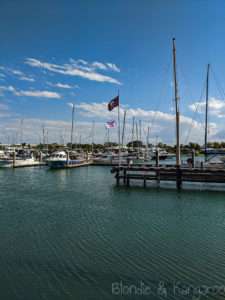 10 things to do when visiting Darwin
1. Watch hermit crabs on Mindil Beach during sunset
Shells moving on sand are definitely a surprising view. If you look closer it turns out they are small crabs wandering around the beach. We could watch them for hours. Trust me, it's really addictive and relaxing and with the setting Sun in background creates an amazing mood.
2. Swim in Recreation Lagoon
Deadly poisonous creatures and the ones with humans on their menu are the reason swimming in the sea is not recommended. The creatures I am talking about are of course jellyfish and crocodiles. While they are most active during the wet season it's a really good idea to stay away from salt waters even in winter. Fortunately, Darwin found an amazing solution for that problem and created a lagoon in the city, where everyone can swim safely.
3. Play with waves in Wave Pool
If you are looking for more than just swimming, then you are in luck, as next to the lagoon is Wave Pool. Place where you can jump through the waves for as long as you want. Darwin really made sure it has a real sea feeling to it. If you need to recharge your energy after all of the fun worry not as the Waterfront Precinct (the area where Wave Pool is located) is full of bars, cafes and restaurants. Everyone will find something for themselves here.
4. Visit crocodiles in Crocosaurus Cove
Darwin is located in part of Australia favoured by crocs. You can meet freshwater mates, which are considered less aggressive and don't have humans on first spot in their menus. These crocs usually don't attack people on their own. Still better to admire them from a safe distance. Northern Territory is also home to saltwater crocodiles, which are the ones you really really want to avoid at all cost. They are more aggressive than drivers after 2 hours in a traffic and not surprisingly the majority of croc attacks in Australia is their doing (not the drivers). Thankfully, Darwin has a spot where you can see them safely. Crocosaurus Cove even offers swimming session with saltwater crocodile!
5. Walk through botanical gardens
When we are visiting new city, we always curiously check the map looking for botanical gardens. For us, they are one of the best spots to check out. Darwin didn't disappoint us with its George Brown Darwin Botanic Gardens which is really awesome and has an impressive collection of exotic plants.
6. Visit Mindil Beach Markets
Mindil Beach Markets is a spot where you can not only eat good food, but also buy handmade souvenirs, listen to the music and watch some fire and dance shows. Everything accompanied by beautiful sunset. Market is open on every Sunday and Thursday from end of April until end of October. During wet season due to the weather it is closed. If you are around it's definitely worth visiting this spot for some good time and amazing atmosphere.
7. Taste croc
Before travelling to Darwin it's worth noting that crocodiles are waiting on every corner there. They are literally everywhere t-shirts, hats, walls, sculptures, plushies and even… menus! So, if you are curious how crocodile's meat tastes, Darwin is a perfect spot to give it a go.
8. Visit Stokes Hill Wharf
Wharf famous for its amazing restaurants located in fabulous location with beautiful view. This is where you can try croc's meat. It comes up to live after the sunset, but even during a day it has its own atmosphere. Most (if not all) restaurants will be closed, but still a short walk around wharf in this beautiful location is worth it. We also heard that during storms this is one of the best spots in Darwin for watching thunderstorm on the horizon.
9. Watch sunset from Dudley Point Lookout
Amazing spot for watching sunsets, especially for these who prefer to avoid beaches because of the saltwater crocs. You can see the panorama of city and sea from the lookout. Additionally, it's located in East Point Reserve, a really beautiful green park perfect for walks and enjoying the nature.
10. Go for a trip outside the city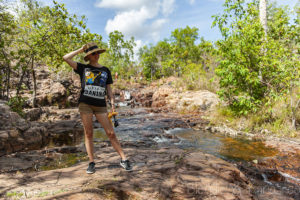 There are two really popular national parks located near Darwin, both definitely worth visiting if you got time. We recommend a trip to Litchfield National Park, you can read more about it in this blog post. Sensational memories guaranteed!