It looks like it is a common misunderstanding, that transitioning to healthy diet means saying bye bye to sweet treats. The key to success here is to carefully choose the healthier and more stomach friendly options. The most important rule, stay away from the refined sugar, it brings nothing good. Secondly, when reading labels, if you see preservatives, emulsifiers or other additives, which sound like something from outer space, put the product back on its shelf.
Healthy eating means being conscious of what you eat. That's why the easiest and most of the times, the cheapest way, is to make treats by yourself. So, how about a raw snickers cake? Ohh yeah! Healthy eating doesn't mean you will never get the taste of your old, not so healthy sweets. I introduced this cake to my friends, which are still at the beginning of their journey to change food habits and… they were amazed! They literally loved it! I was told that it tastes like the original one. So, no time to waste, make this cake too! 🙂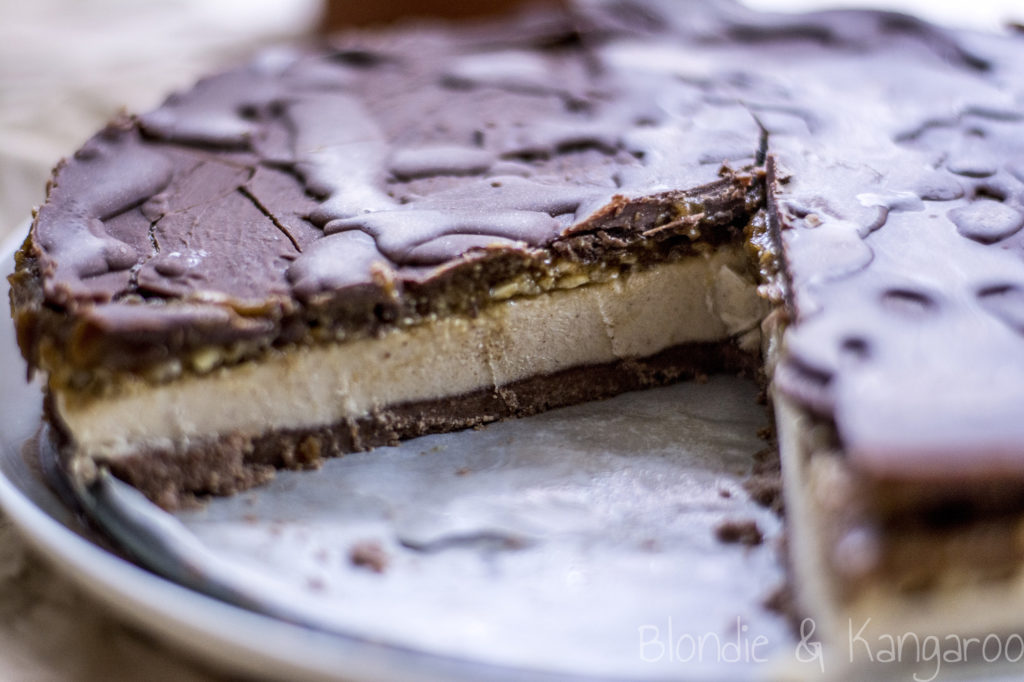 Servings: 10-12
Ingredients:
Base:
11/2 cup almonds
3/4 cup shredded coconut
2 tbsp coconut oil (melted)
2 tbsp cacao
1 tbsp honey
pinch of salt
Nougat filling:
3/4 cup peanut butter
1 can (400 ml) coconut milk
4 tbsp coconut oil (melted)
4 tbsp honey
1 tsp vanilla extract
1/2 cup cashews, chopped
Caramel filling:
1 cup dates (soaked in boiling water for 10 mins then drained)
1/2 cup water from soaked dates
1 tsp vanilla extract
1 tbsp coconut oil
Topping:
1/2 cup coconut oil (melted)
1/4 cup raw cacao
1 tbsp tahini
2 tbsp honey
pinch of salt
Directions:
Line a 20 cm spring form cake tin with baking paper or cling wrap.
In a food processor or high-speed blender, place all the ingredients for the base and mix until it has a texture of coarse gravel.
Place the base in to the prepared tin, ensure it is even. Place into the freezer.
Meanwhile whiz all ingredients for nougat filling (except cashews) until creamy.
Pour the mixture on top of the base, sprinkle with chopped cashew and place back in to the freezer for 2 hours.
After that, it's time for the caramel filling. Mix dates, water, coconut oil and vanilla extract till smooth.
Spread the caramel filling over the nougat filling and place into the freezer.
Once the cake is completely set, prepare the topping by mixing the rest of ingredients till smooth.
Take the snickers cake out of the freezer, run a knife around the edge and release the spring form slowly. Drizzle the top with chocolate mixture. Store in the freezer.
Enjoy!
Handy tips:
Instead of honey, you can use maple syrup or rice malt syrup.