Since we've moved to Australia our tradition became travelling during our birthdays. We don't celebrate that day with cake, gifts or balloons like other people. What we have instead is a beautiful scenery and schedule filled with wonderful activities (you can read about one of these birthdays on Rottnest Island in this post). The thing is I love baking cakes as much as travelling. Experimenting with flavours using tummy friendly ingredients became my passion some time ago. So, as soon as we come back from our trips, I start creating ideas for a cake in my head. Few days after, the birthday cake is usually ready. This year I chose peanut butter and chocolate to work with. Plus, I decided to put a veggie into the cream. And that's how I created peanut butter chocolate cake with sweet potato. I invited 8 testers to try my cake. Everyone loved it and even asked for more. How great is that? To be honest I haven't thought the flavours would work with one another so well. The cake tastes wonderful. Give it a go, please!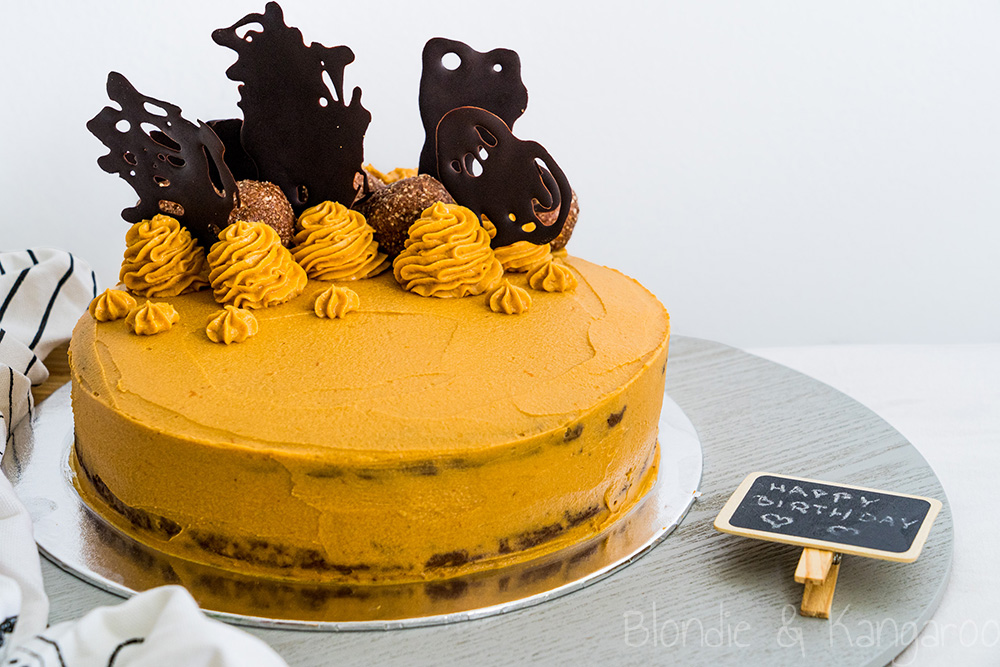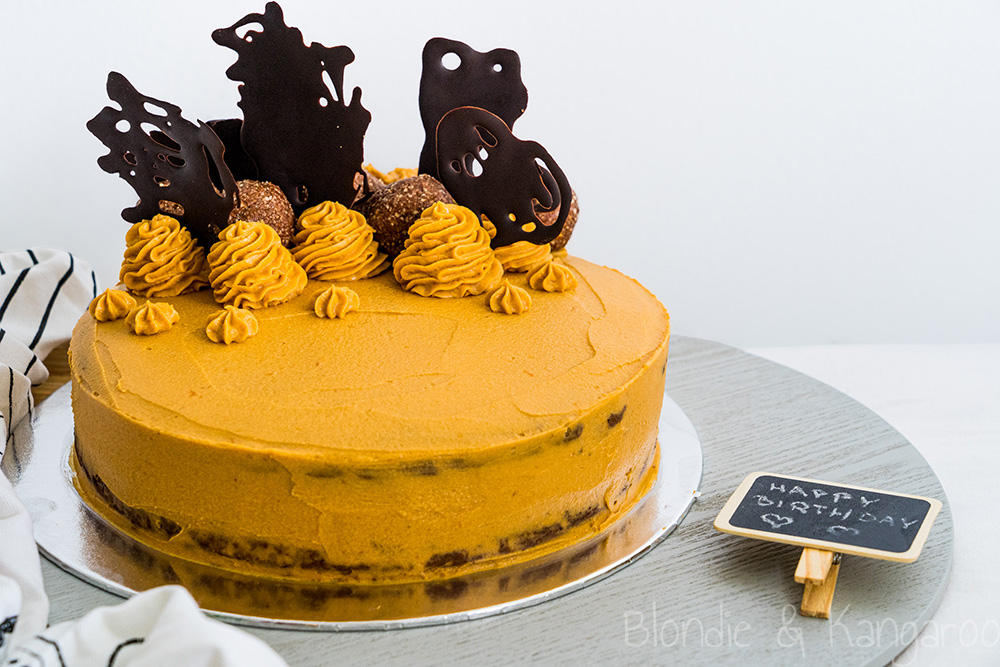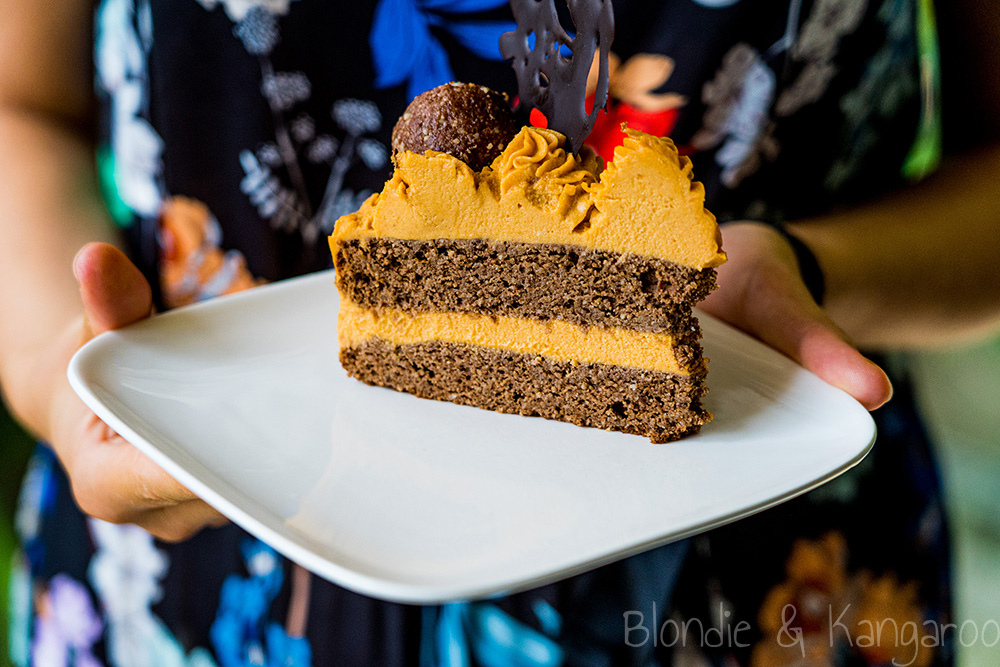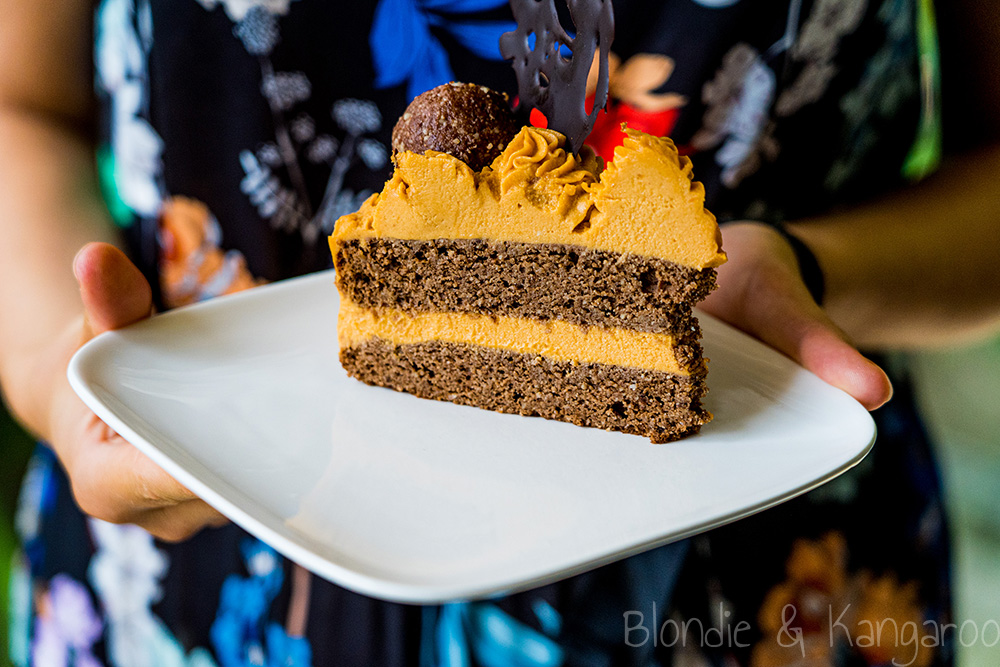 Servings: 12
Sponge
1/2 cup coconut oil
110 g coconut flour
40 g cacao powder
20 g tapioca flour
Pinch of salt
6 large eggs
1 cup coconut milk
3/4 cup honey (you can use maple syrup or rice malt syrup instead)
1 tsp vanilla extract
1 tsp baking powder
Cream:
1 cup cooked sweet potato puree
3/4 cup smooth peanut butter
1 can coconut cream or 2 cans coconut milk (place it in the fridge for at least 24 h)
1/3 cup of honey
Directions
It's best to prepare the cream a day before or at least few hours in advance.
Take the coconut cream out of the fridge and remove the lid.
Scoop out the coconut fat, placing it in the bowl.
Pour the remaining liquid into a jar, saving it for another use (I like adding it to my morning smoothie).
Add sweet potato puree, peanut butter and honey to the bowl with coconut fat and mix well.
Place it in the fridge overnight.
The next day preheat the oven to 170°C (325°F).
Grease 2 x 20 cm (8inch) spring form cake tins and line them with baking paper.
In a bowl combine coconut flour, tapioca flour, cacao and baking powder.
Separate the eggs.
In second bowl mix yolks, coconut oil, honey, coconut milk and vanilla extract. Add dry ingredients and mix again.
In another bowl whisk the egg whites with pinch of salt till stiff. Gently fold them into the chocolate cake butter.
Pour cake mixture into prepared cake pans.
Bake for 25 minutes or until the skewer comes up clean.
Remove it from the oven and allow to cool completely.
Take the prepared cream out of the fridge, and using a hand blender whip the peanut butter cream until light and fluffy.
Top the first sponge with half of the frosting.
Carefully place the other sponge on the top and spread the rest of the cream.
Decorate the cake however you want. I used bliss ball from this recipe and 95% dark chocolate.
Store in the fridge.
Enjoy!