Are you a fan of adding veggies to your cake? To be honest, I am! I also need to admit that watching reactions of people trying my new recipes is a tremendous fun. Usually, vegetables aren't the most favourite ingredients for sweet treats. Although there are some you may find quite tasty like carrot or pumpkin cake. Even a spinach cake isn't a surprise anymore. But have you ever tried a cake with cauliflower? If not, check my new recipe I have for you here. It's so delicious. I even made a small experiment. Seven testers ate my cake and tried to guess what mysterious veggie I put in it. And… no one did! But they all agreed this chocolate fruit cake with cauliflower is very yummy.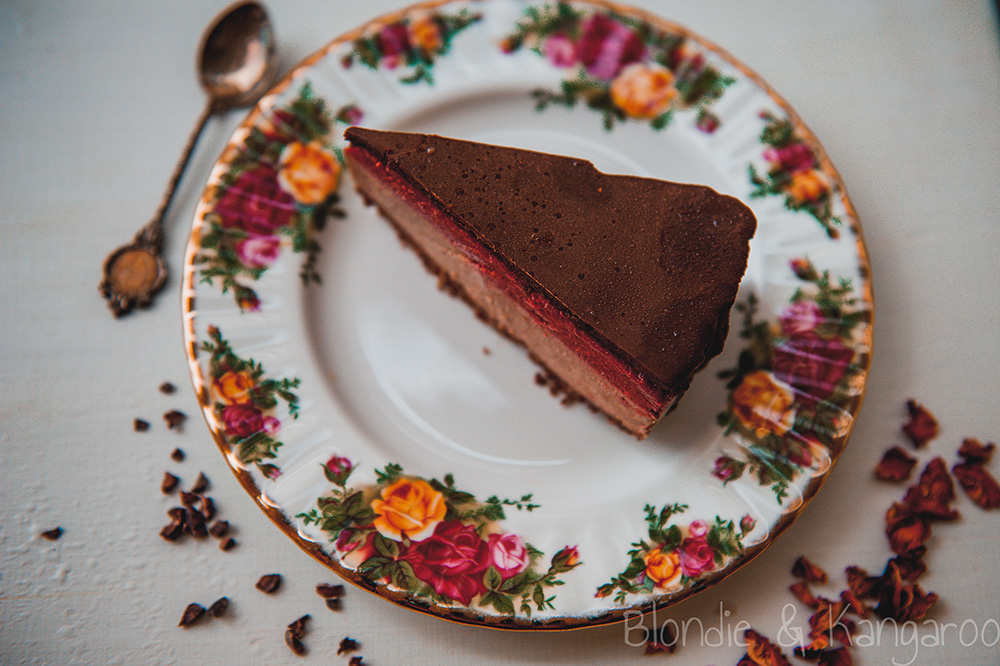 Print
Ingredients
BASE:

120 g almonds

100 g sunflower seeds

40 g cup desiccated coconut

2 tbsp cacao

100 g dates

CHOCOLATE FILLING:

300 g cashews

400 ml coconut cream or milk

1/2 cup honey

3 tbsp lemon juice

lemon zest from 1 lemon

1 tsp vanilla extract

150 g frozen cauliflower

30 g cacao

RASPBERRY FILLING:

260 g frozen raspberries

1/3 cup honey

3/4 cup water

TOPPING:

1/2 cup coconut oil (melted)

1/4 cup raw cacao

1 tbsp tahini

2 tbsp honey

pinch of salt
Print
Directions:
Line a 20 cm spring form cake tin with baking paper or cling wrap (you can also use a silicone mould).
In a blender or food processor place all of the base ingredients and quickly blend to combine.
Transfer this in to the lined tin and spread out evenly, covering the entire base. Place in the freezer.
Place the ingredients for the lemon-chocolate filling into your food processor (high-speed blender) and blend at high speed until smooth and well combined.
Pour the mixture over your base and return to the freezer to set.
After 1-2 hours start preparing a raspberry filling by blending frozen raspberries, honey and water till smooth.
Once the cake is completely set, prepare the topping by mixing the rest of ingredients till smooth.
Take the cake out of the freezer and release the spring form. Drizzle the topping over the cake until you have your desired look. Store in the freezer.
Enjoy!
Handy tip:
Instead of honey, you can use maple syrup or rice malt syrup.