I'm quite ashamed to tell you guys about this… I ate fennel for the first time after moving to Australia. When it's in season here, all farmers' markets and shops were packed with this wonderful veggie. This made me interested in it even more. At first, obviously I had no idea how to eat it. Thanks to uncle Google and some research I found out that fennel can be used in so many recipes. There are bunch of ways to eat this cool veggie. Raw or cooked, doesn't really matter. It always tastes amazing. After looking for some good inspirations for a recipe I decided to create my own. And it turned out pretty good! The salad is very refreshing and perfect for afternoon lunch. The combination of apple and fennel is incredibly delicious.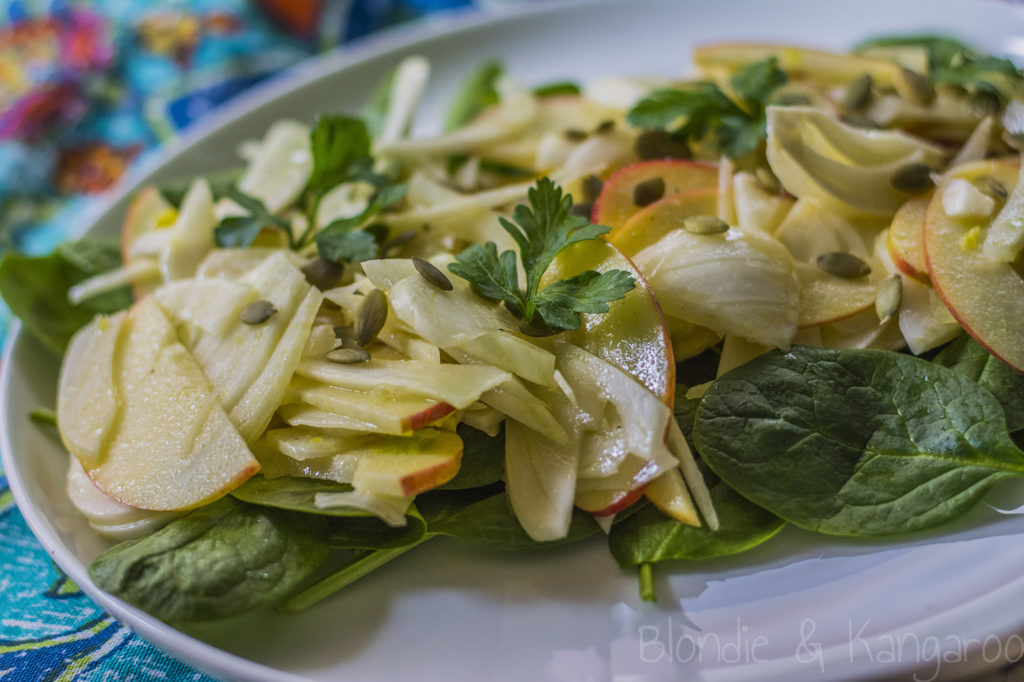 Servings: 4
Ingredients:
1 apple
1 fennel
50 g fresh spinach
Dressing:
1/2 tbsp extra virgin olive oil
1/2 tbsp apple cider vinegar
1/2 tsp dijon mustard
1/4 tsp honey
Topping:
1 tbsp pepitas
fresh parsley for decoration
Directions:
Combine all dressing ingredients in a bowl.
Trim the fennel, then slice it thinly (you can use a food processor, a mandolin or just cut it using a knife). Do the same with apple.
Transfer fennel and apple to the bowl and mix with dressing.
Arrange spinach on the platter, put fennel apple salad on the top. Sprinkle with pepitas and fresh parsley.
Enjoy!