There are walks, which you could repeat every day, admiring stunning sights and enjoying each step. Bondi to Coogee Coastal Walk is definitely in that group. The path is located in Eastern Sydney suburbs and it is definitely amongst our favourite tracks. The view is always amazing no matter the season. Spring, summer, autumn, winter, it's always a good time to visit it.
The walk goes alongside cliffs with countless waves crashing on them. Magnificent emerald water on one side and million-dollar houses on the other. Magical beaches are hiding in almost every bay. Each with its unique beauty. Some have even rockpools for those who prefer calm water. We pass by a number of parks and playgrounds. Even the cemetery with sea views has its own charm. Bondi to Coogee walk is like a small, urban paradise in which you can lose yourself for a long time.
We start the walk in Bondi Beach, the most popular beach in whole Australia. It's always full of surfers trying themselves against waves. The suburb is said to be a kingdom of hipsters and backpackers. Naturally there are lots of hostels, pubs and small charming cafes promoting healthy eating and lifestyle.
Following a path along the cliffs and arrive at Tamarama Beach. One of the smallest beaches on the track. This is the place where between October and November each year, a Sculpture by the Sea route ends. You can read more about this remarkable outdoor gallery in this post (link).
Behind next peninsula lies Bronte Beach, famous for its really strong rip currents. The beach is always patrolled by lifeguards, but waves can be unpredictable. Fortunately, this place offers also a rockpool, park with public barbecues and picnic spots.
The next beach on our walk is Clovelly Beach. This place is like a magnet for families with kids 😉 Most likely because it's located in a narrow bay which guards it from almost all waves. Everyone can safely enjoy the swimming here.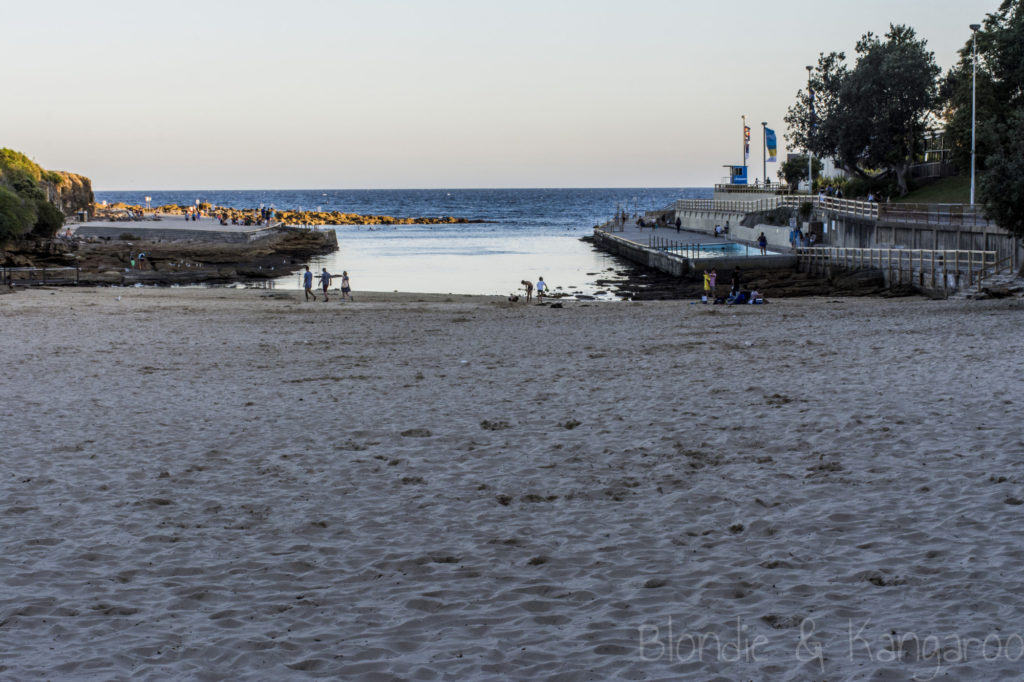 Following the path, we arrive at Gordon Bay. It looks mysterious with all those small fisherman boats. But there's more to this unguarded beach than that. It's really popular amongst snorkelling enthusiasts. There's even an Underwater Nature Trail for those wanting to experience the undersea world.
Nearby, while walking along Dunningham Reserve, we arrive at lookout point to admire our last stop – Coogee Beach. Smaller and considered less crowded version of popular Bondi Beach. There's a really interesting rock island near it called Wedding Cake.
Handy info:
The best way to get to Bondi Beach is taking a bus, especially with direct connection from Circular Quay. Another option is to take a train to Bondi Junction and then catch a bus towards the beach.
Bondi to Coogee Coastal Walk is 6km long and takes around 2.5 to 3 hours.
Of course, you can start the walk in Coogee and experience it backwards. Equally picturesque views guaranteed 😉
There are many drinking stations along the path.
Numerous parks can provide shade (under trees or sheds) and a shelter. However, most of the time you are walking in direct sunlight, so better remember about sunnies, hat and sunscreen.