Not that long ago our friends' second son was born. This meant a welcome party for a new family member. For that occasion, I've prepared chocolate cupcakes with blueberry jam filling. They turned out marvellous. All guests were very impressed. What's more, they were really surprised when they learnt it was a much healthier version of this popular sweet treat. I can openly say that this was a huge success for me 😉 And since they've liked it, I hope you will too 🙂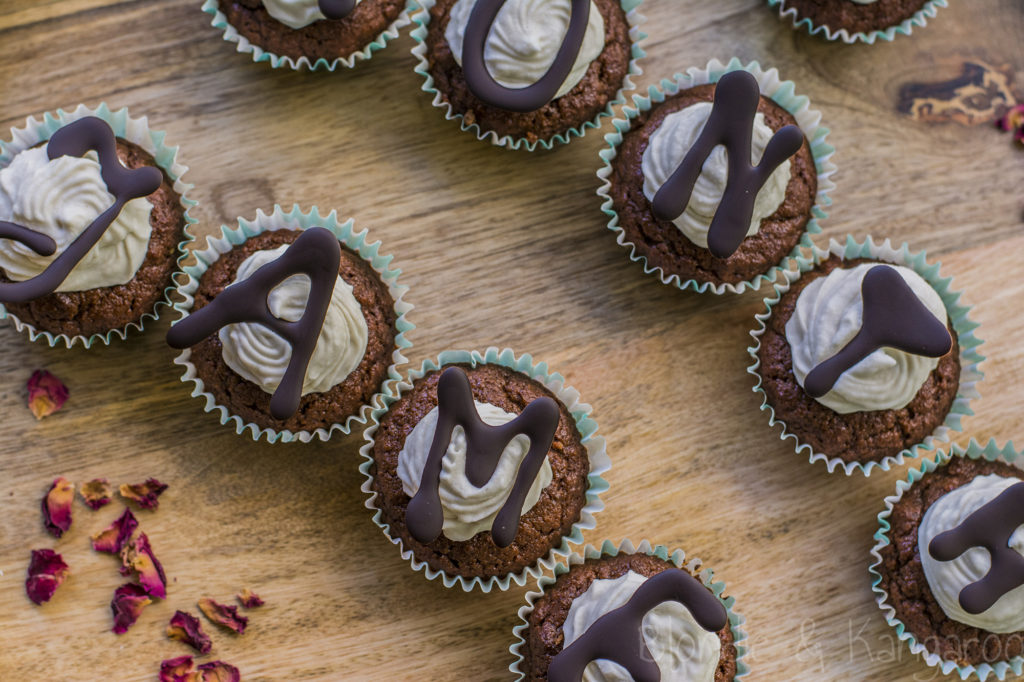 Serves: 12
Ingredients
Cupcakes:
55 g coconut flour
10 g tapioca flour
20 g cacao
1/4 cup coconut oil
3 eggs
pinch salt
1/2 cup milk, I used almond milk (coconut milk also goes very well with this recipe)
1/2 cup honey (you can also use rice malt syrup or maple syrup instead)
1 tsp vanilla extract
1/2 tsp baking powder
Filling:
3-4 tbsp of blueberry jam (link)
Frosting:
1 can coconut cream – 400 ml (place can of coconut cream in the fridge upside down for 24 hours)
2 tbsp honey (you can also use rice malt syrup or maple syrup instead)
Directions:
Preheat the oven to 180°C (or 350°F).
In a bowl combine the coconut flour, tapioca flour, cacao and baking powder.
Separate the eggs.
In another bowl, mix the yolks, coconut oil, honey, milk and vanilla extract. Add the dry ingredients and mix to combine.
In a separate bowl whisk the egg whites with salt until stiff. Gently fold them into the chocolate mixture until evenly mixed.
Line a cupcake tin with paper liners.
Spoon the cupcake batter into each cupcake liner (about 2/3 full).
Bake for 25-30 minutes.
Remove cupcakes from the oven and allow to cool completely before frosting.
Using a small knife, poke a hole in the top of each cupcake and fill each with 1-2 teaspoon of blueberry jam.
Take the coconut cream out of the fridge, flip it over and remove the lid.
Pour the liquid into a glass jar and store in the fridge (you can use it for a smoothie)
Gently scoop out the coconut fat, placing it in the bowl.
Using a mixer, whip the coconut cream with the rest of ingredients until light and fluffy.
Frost cupcakes as desired and serve.
Store in the fridge.
Enjoy!