I wrote many times on the blog, that creating healthy and more tummy friendly treats gives me so much joy. But the thing I really enjoy the most is the process of decorating those creations. Especially birthday cakes which let me show my skills. This is why I am always the first one with my hand up when someone's birthday is approaching. Unfortunately, quitting sugar and reducing lactose in my diet do not make it easy to decorate using the old fashioned ways. I didn't give up though. I discovered that using honey and coconut cream I can still create very nice-looking cakes. Lately, I became crazy about naked cakes. Their simplicity, rustic beauty and wonderful decorations make them so charming that I decided to do one on my own. The combination of coconut and strawberry turned out really great. The look is also not so bad, what do you think? To be honest I am really proud of that one!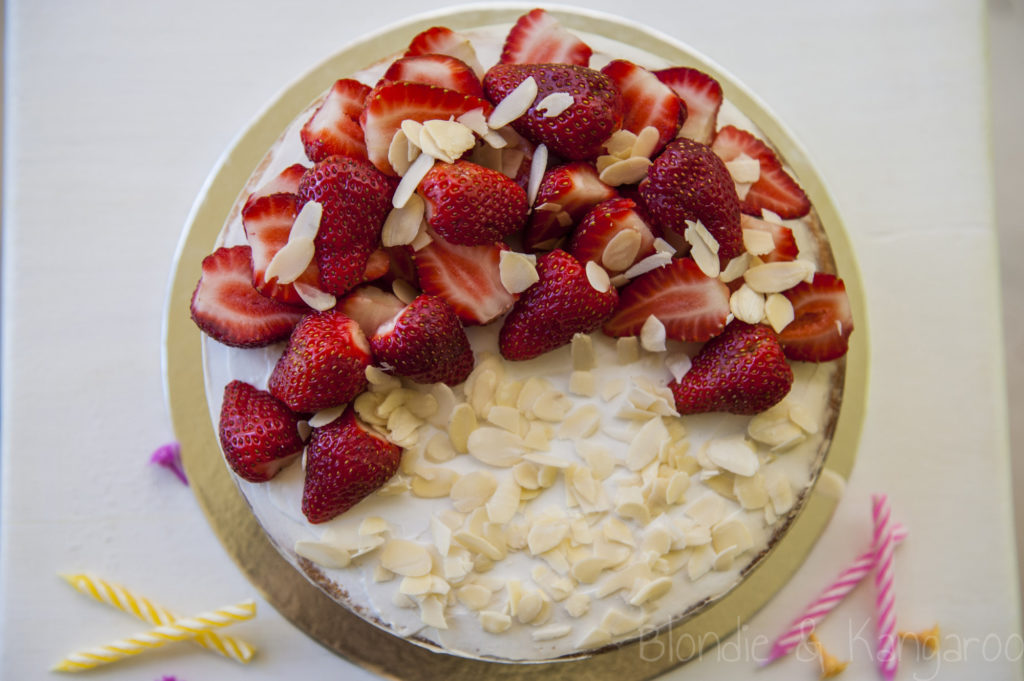 Servings: 10-12
Ingredients:
Sponge:
90 g coconut flour
9 eggs
pinch salt
1 tsp baking powder
1/2 cup ghee, melted
1/2 cup rice malt syrup (you can use honey or maple syrup instead)
1 tsp vanilla extract
Cream:
2 cans coconut cream – 400 ml (place can of coconut cream in the fridge upside down for 24 hours), or 3 cans coconut milk
2-3 tbsp rice malt syrup (you can use honey or maple syrup instead)
Additional:
3/4 cup strawberry jam (from this recipe)
250 g fresh strawberries
1 tbsp almond flakes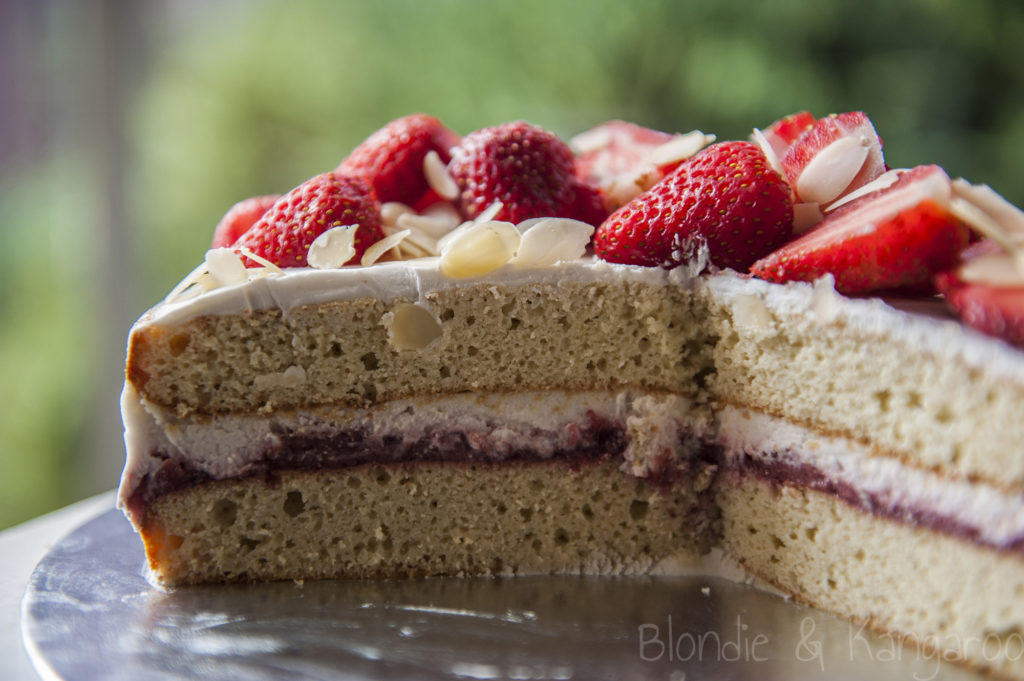 Directions
Preheat the oven to 170°C (325°F).
Prepare two 20 cm (8 inch) round cake pans. Grease with coconut oil and line with baking paper circles cut to fit the pans. (PLEASE NOTE: You need to use two pans, not just one. The sponge from this recipe won't rise like normal sponge with wheat flour).
Separate the eggs.
In the bowl mix yolks, coconut oil, rice malt syrup and vanilla extract. Add coconut flour, baking powder and mix again.
In another bowl beat the egg whites with salt till stiff, then gently fold them into the cake butter.
Divide the cake mixture evenly among the pans.
Bake for 25 minutes or until the skewer comes up clean.
Remove the cake from the oven and let it cool for a while.
When sponges are cooled, it's time to make a frosting. (PLEASE NOTE: It's very important to cool the cake completely as frosting will melt as soon as you put it on warm sponge). Take the coconut cream out of the fridge, flip it over and remove the lid.
Place the liquid into a glass jar and store in the fridge (you can use it for a smoothie).
Using a spoon gently take the coconut cream out the can and place it in the bowl.
Whip the coconut cream with the rice malt syrup until light and fluffy.
Remove sponges from pans and place one on the cake stand. Spread strawberry jam on the top followed by half of the coconut frosting.
Place the second sponge on top and cover the cake with the rest of the frosting
Wash and dry strawberries. Decorate the cake using strawberries and almond flakes.
Store in the fridge.