We heard about Gold Coast being paradise long before moving to Australia. That's why it ended up on our Bucket List and after spending some time in Aussie we decided to check it out on our own.
We went there in probably not the best season, but it turned out quite good for us. August, Australian winter, and suddenly sunny and warm days appeared. The temperature was around 24 – 27 degrees. Perfect conditions for sightseeing. The only downside of everything was quite early sunset. However, the sunrise was later in the morning, and that motivated us to get ourselves out of bed at 6 am and go watch our very first Australian sunrise on the beach!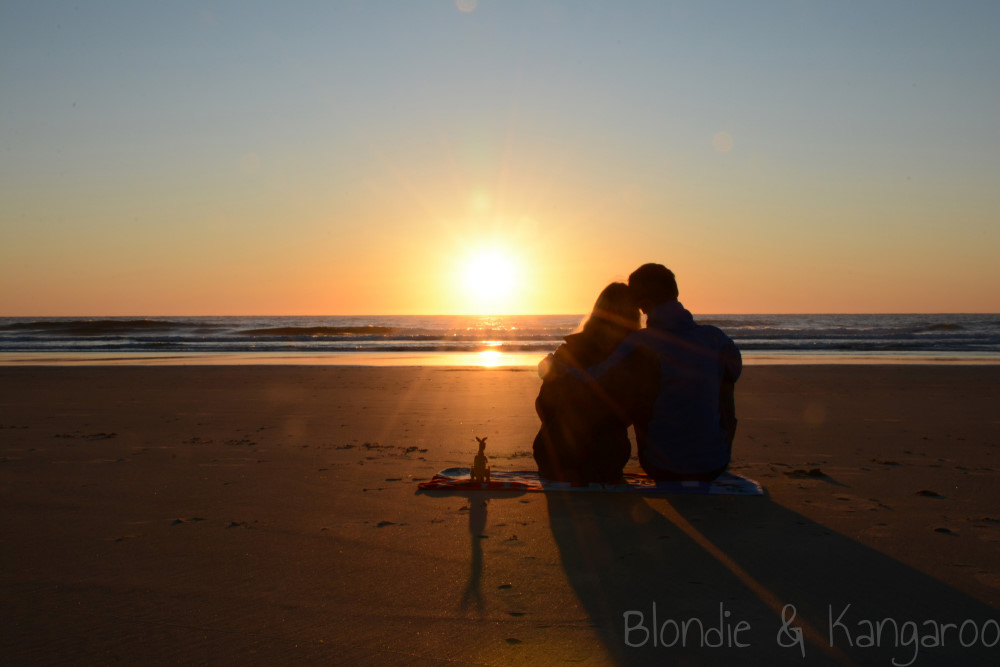 Our place was minutes away from the sea, which made whole "sunrise hunting" even easier. We've rented the room like we usually do, through Airbnb, and ended up staying with truly awesome couple. We spent together every evening. We knew them for just a couple of days but it felt like we are friends for years already. That's why we love Airbnb. Amazing opportunity to meet fantastic people in cool places.
Beach nearby and amazing company weren't the only benefits. Some blocks of apartments in Australia, especially ones close to beaches, are like tourist resorts. From outside they look like hotel and sometimes it's hard to believe these are normal apartments where people live. Inside a huge garden with heated pool, sunbeds, BBQs and gym. And when there's not enough space around, they squeeze everything on the roof. The place where we stayed had plenty of space between buildings and here's how it all looked like from the balcony:
We travelled across Gold Coast mostly on bicycles. We love bikes so it really was a huge plus for the city. There is a high number of paths around, with most of them going right next to beaches. Ahhh! We forgot to mention the most important thing! Gold Coast is a city placed next to beaches along the 70 kilometers coastline where you can take countless walks. Since we are here, how about some other facts about this charming place? Gold Coast lies in south-east part of Queensland. A stone's throw away from Brisbane. It is the 6th largest metropolis in Down Under and one of the most popular holiday destinations.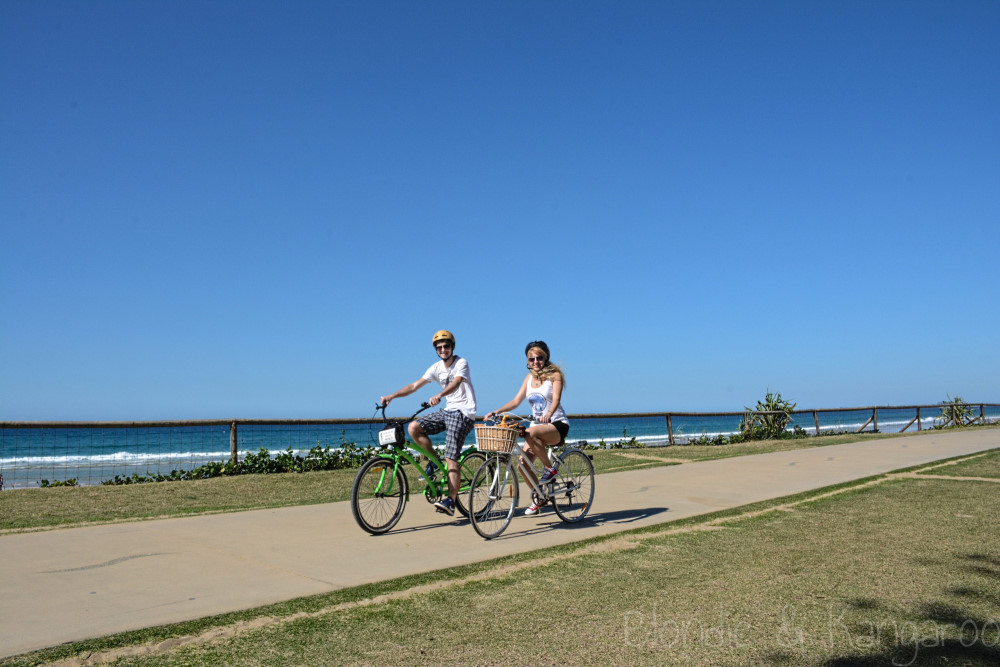 All righty, but what about that whole paradise thing? Well it is definitely a paradise for surfers, there's even a tiny suggestion in a name of main suburb. We are talking here about Surfers Paradise of course. Tourist heaven during the day, one huge party at night. You can drink a cup of good coffee in one of many stylish cafes, eat delicious lunch or dinner in restaurants and of course drink a cold beer in pubs. There's also heaps of souvenir shops scattered around the whole place.
City centre has also one of the tallest residential towers in the world called Q1 (Queensland Number One) that is 322.5 meters high. Inside the building there is the SkyPoint Observation Deck located on 77th floor where you see 360 degree views of the entire Gold Coast. We usually skip these kind of tourist attractions and prefer panoramas from mountains near cities or buildings with no admission fee. But this time we decided to give Q1 a go and check it out. Super high-speed lift took us to level 77 in around 42.7 seconds, which is pretty fast. We didn't regret our decision for a moment, it was probably one of the best ones we made during our trip there, all thanks to stunning views from SkyPoint.
What made whole thing even better was a deal for unlimited number of entries during 3 days period. The price tag for that pass was 29AUD, which is only 4 bucks more than a normal single-entry admission. In our opinion this is an amazing deal, giving opportunity to see the panorama at almost every time of the day. And if the weather is bad, nothing lost, there are still other days. Also, make sure to check out the free leaflets on the airport. In one of them we found a coupon which made the 3 day pass even cheaper. Yay!
So, what can you do in Gold Coast when you have a bicycle? How about crossing it length and breadth? No jokes. Just be ready for heaps of stops. Beautiful parks, lookouts and beaches are worth every single Instagram photo.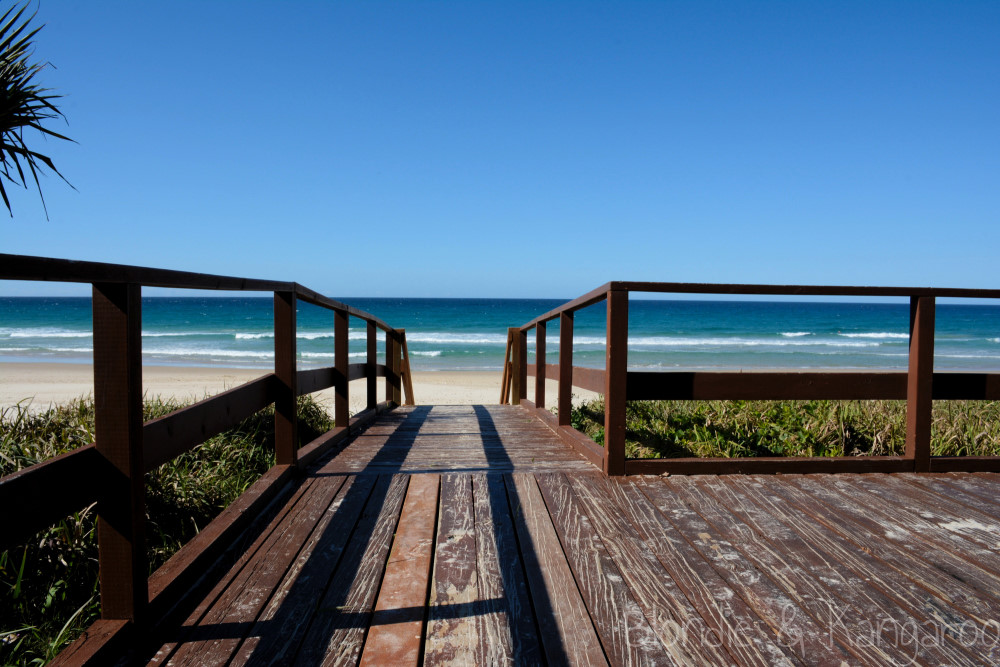 We even decided to go a little bit further. On north we got to The Spit Gold Coast to admire a sunset with the view on city and sea. Sights were fantastic as we both suspected. In addition, standing on this permanent sand structure separating the Gold Coast Broadwater from the open waters of the Pacific Ocean you can really feel a romantic atmosphere around. Perfect place for a photo-shoot.
South wise we got as far as to the Palm Beach stretching for 4km between Currumbin Alley and Tallebudgera Creek. It has been crowned Queensland's cleanest beach three times. Along the way we stopped also in Tallebudgera Creek Park to take couple of photos.
Ok, what else can you do in Gold Coast if you don't have a bike? Well how about going to the beach? There's definitely a lot of choices, everyone will find something. Jumping through waves with skyscrapers right next to the beach has something cool in itself. There is also a quite big number of trails across the city. Taking a walk in the nature and breathing fresh air is one of the best forms of activity. We have chosen Burleigh Headland National Park Walk (Rainforest circuit) – 2.3km long. The path goes through rain forest with a stop at Tumgun Lookout which is a good place to watch for humpback whales in winter and spring. Unfortunately, we didn't spot any. Bu there's no need to be sad, the future awaits with its marvels.
Our amazing Airbnb hosts took us for a goodbye brekkie with their friends in nearby cafe called The Paddock Bakery. What an awesome place! A broken-down house was transferred into hipster bakery serving breakfasts and lunches. It was so easy to relax there, sitting by the table inside, admiring stylish interior or outside in the garden among trees, flowers and birds. This place had a truly unique atmosphere. On top of everything, here's how food was served:
Gold Coast captivated us definitely and we will remember it for a very, very long time. For Marcin this is even a number one city in Australia. My pick is of course Sydney, but Gold Coast is right behind it. One thing is sure – we will come back here again! And who knows…maybe for a little bit longer next time.