Spaghetti squash. Have you ever heard about it? Do you use this lovely veggie in your recipes? To be honest I had no idea spaghetti squash even existed before I came to Australia. Few year ago, I was doing autoimmune protocol to fight my disease. Which means not only grains containing gluten but also other healthy ones had to be kicked out from my menu. During that period spaghetti squash saved me every time when I had a strong desire to eat some pasta. Why? Glad you asked. After cooking this beautiful veggie has the texture of noodles. Yep, you read correctly! Noodles! And on top of that very nutritious noodles. So, what do you say? Will you give it a go? Let me just add that this coriander spaghetti squash casserole is the best dish ever!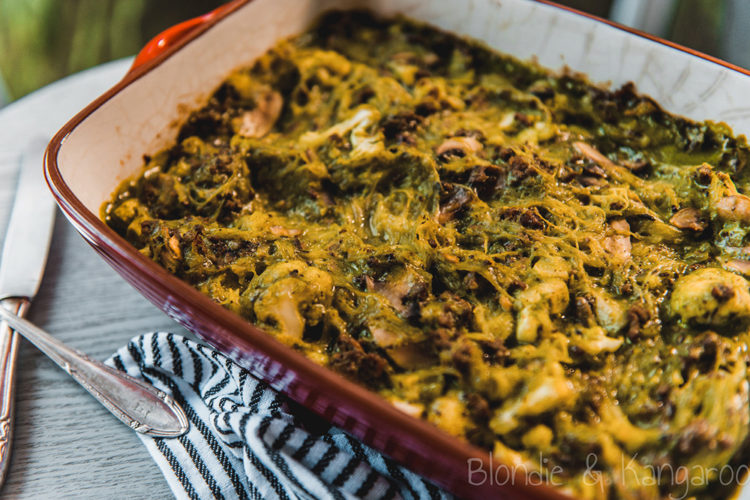 Servings: 4
Ingredients
1 medium spaghetti squash
400 g cauliflower florets, cut into smaller pieces
3 mushrooms, chopped
300 g organic ground beef
1 tbsp coconut oil or olive oil
2 tbsp tapioca flour
2 cloves garlic
400 ml coconut milk
1 bunch fresh coriander
1 tsp turmeric
1 tsp salt
Pinch pepper
Directions
Preheat the oven to 200°C (390°F).
Cut the spaghetti squash lengthwise and scoop out the seeds. Place the two halves face-down on a baking sheet or baking pan and place in the oven to bake for 35-45 minutes.
When the squash is done, remove it from the oven and set aside to cool.
Put coconut milk, coriander, garlic, salt, turmeric and pepper in a blender and mix together till smooth.
Heat a large pan over medium heat and add in oil and ground beef. Cook for few minutes.
Once the meat is done, add mushrooms and cauliflower and cook until they begin to soften.
Add in the tapioca flour and stir around to mix well.
Pour coriander sauce into a pan and cook for few minutes till the sauce thicken. Keep stirring to prevent burning.
Preheat the oven again to 200°C (390°F).
With a fork, scrape out the spaghetti squash "noodles" into a medium casserole dish.
Add the cooked mixture from the pan. Mix everything together well.
Place it in the oven to bake for 20 more minutes. Remove and serve.
Enjoy!