Bali can definitely offer many things. It usually tempts tourists with its beaches, waterfalls and nature. Of course, you shouldn't also forget about the temples, which play huge part in Balinese culture. And trust me, this small Indonesian island has heaps of them. This brings up the question, which ones should you visit when travelling there. We have chosen 6 favourites. These made the biggest impression on us.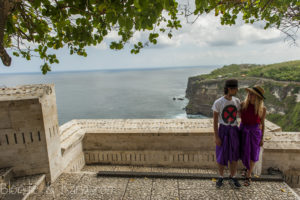 What you should know before entering a temple:
Most of them have an entry fee. So, be prepared and have cash ready as that's how you have to pay in majority of them.
Inside you have to wear a special cloth wrapped around the body called sarong (only two temples we have visited didn't require it)
You can expect a lot of stairs in temples, unfortunately they might not be accessible for people with disabilities.
6 temples worth seeing in Bali
Besakih Temple
Our favourite one. Besakih Temple is often called the mother temple. Located near Mount Agung – the biggest volcano in Bali. The most important and sacred from all Balinese temples. Entry fee is 60,000 IDR (around 6 AUD) per person. The price includes sarong and local guide. Remember to ask about your guide when buying tickets. Otherwise you may end up on a self-guided tour. We had an amazing guide who told us a lot about the history of this place, religion and Balinese traditions. If you have an opportunity to visit this temple, we definitely recommend it!
Uluwatu Temple
Charming temple located on a cliff with marvelous views. Also called Pura Luhur Uluwatu. Perfect spot for watching a sunset. This temple is also a home for a number of local monkeys. It's a good idea to hide all your shiny things away in a backpack (especially sunnies) and be really aware when wandering around. The monkeys are aggressive, but they are curious enough to try steal your personal belongings if you're not careful. Entry fee: 50,000 IDR.
Ulun Danu Beratan Temple
Water temple with an impressive architecture. Located in the west part of Lake Beratan, in town Bedugul. When conditions are good the smooth lake surface creates an illusion of buildings floating on the water. One of these temples where sarong is not required. The entry fee is 50,000 IDR per person. Amazing charm and positive vibes of this place make it a worth travel destination.
Ubud Water Palace, Saraswati Temple
Another beautiful water temple. That one is located in the central Ubud. Beside Balinese architecture you can admire a small pond full of lotus flowers. This is the only sacred place we visited without an entry fee. You don't need a transport to get here (if you are staying in Ubud) so you won't even have to pay any parking fees. Access is really convenient. The temple is located right behind the Starbucks. Sarong is also not required here.
Tirta Empul Temple
A group of temples located in small village Manukaya in central part of the island. Statues and ornaments are based on legends about good fighting with evil. This location is best known for its holy spring water, a reason why believers from around the globe come here for a ritual of purification. Entry tickets cost 50,000 IDR. There is also a number of restrictions here. Touring and ritual require two different sarongs. Women have to have their hair tied and they cannot enter the water during period.
Pura Gunung Kawi
Stone temple located next to Tirta Empul Temple. It is definitely located in one of the best spots. Pura Gunung Kawi is surrounded by fabulous rice fields, waterfalls, streams and jungle. Path leading to it crosses a picturesque stone bridge above holy river Pakerisan. Getting to the temple is not easy and full of stairs, but the views are definitely worth it. Entrance fee: 50,000 IDR.