While visiting Australian Northern Territory we had to check out one of its national parks. They are different to the ones we know so well from New South Wales with their more desert landscape and red-green colours. The Kakadu National Park is more popular among tourists but locals actually prefer its cousin – Litchfield National Park, and that's the one we decided to visit. In addition, it's located much closer to Darwin. So, if you are here just for a weekend like we were, Litchfield National Park is a perfect getaway from the city.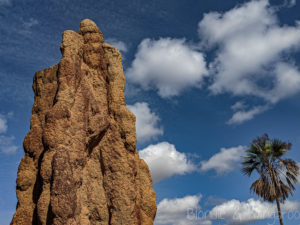 The easiest and probably the cheapest way of getting to Litchfield National Park is by a car. It's located 1.5 hour drive away, which in Australia, especially in Northern Territory, is considered as a short distance. If you don't have a driving license or just can't rent a car, no worries, you can still book a nice trip there. This National Park is famous for its waterfalls, picturesque water holes, huge termite mounds and forests.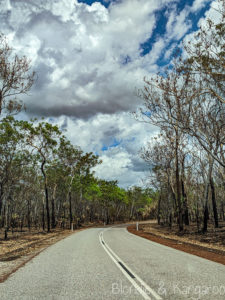 Spots worth visiting in Litchfield National Park
Cathedral Termite Mounds
One of the first attractions awaiting in the park. Termite Mounds make a really amazing impression. It's estimated that they are over 50 years old! Just check out this architecture and precision. Don't they resemble medieval buildings? If you look closer you can spot termites working hard around their home.
Magnetic Termite Mounds
Located next to Cathedral Termite Mounds, Magnetic Termite Mounds is a field full of termitaries, which look like tombstones or chimneys. Their shape isn't the only fascinating thing about them. All of them have walls facing north and south to limit the Sun exposure. One side of the anthill is always shaded no matter the time of the day. This helps termites in regulating temperature of the colony and survive during hot days. This is just brilliant! They may be just small insects but their cleverness and ingenuity are truly fascinating.
Buley Rockhole
Temperature in Northern Territory is always high, even during winter. That's what makes Buley Rockhole so popular. It is a series of natural water holes with plenty of cascades. Who needs jacuzzi when nature created such a beautiful outdoor SPA. On top of that they are completely free, so bring your swimsuits and enjoy your time here.
Florence Falls
Really charming waterfall which can be admired both up from above and down from water level. Amazing spot for a swim, this time in ice cold water and with company of fishes living in these waters. Track leading down from lookout point isn't hard, but you have to be prepared to tackle more than 100 steps.
Tolmer Falls
Hidden in narrow gorge waterfall Tolmer Falls is next attraction worth seeing when visiting the park. It can be admired from viewing platform. Swimming is prohibited in this area, but the views alone are definitely enough.
Wangi Falls
Last place we visited during our trip. In our opinion, a cherry on top of a cake. Waterfall is surrounded by amazing parklands with heaps of spots perfect for a picnic. Didn't bring anything to eat with yourself, don't worry as there's a cafe here with food and drinks waiting for you. Waters are open for swimmers, but have your eyes opened at all times as this area is such beautiful it attracts other visitors too. Crocodiles, because that's what I'm talking about, often visit these waters, both freshwater (they usually will avoid contact with people) and saltwater (these are the mean brother in family) ones.